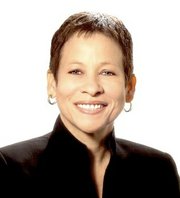 By AVA TURNQUEST
Tribune Staff Reporter
aturnquest@tribunemedia.net
THE government will renew talks to implement a unified public bus system to reduce traffic congestion in New Providence.
Minister of Transport and Aviation Glenys Hanna-Martin yesterday said she plans to revisit proposals to this effect, shelved by the previous administration.
"We're putting our heads together to see how we can more effectively move traffic along at peak hours to avoid the vexing situation that is developing more and more everyday," Mrs Hanna-Martin said.
"A lot of work has already been done - various consultants have been brought in, studies done and the business plan has been completed."
"The issue of moving people more safely and more effectively with the avoidance of congestion is a priority for us," Mrs Hanna-Martin said.
"We've already met to discuss how we can begin to take up that issue again more effectively and seek implementation of some form of public transport system that is unified in its structure and out of that can come a more controlled prosperous environment for public transport."
Mrs Hanna-Martin said the infrastructure upgrades and changes to traffic flow created by the ongoing roadworks project will add convenience, but will not significantly impact congestion during peak hours.
"The plan was done several years ago and I have to see where it's now been placed. I didn't see anything in the last five years to show that it was being taken up.
"The way forward will have to involve more dialogue with stakeholders, which are first and foremost those who own the buses, and of course the public at large who will be utilising the system," she said.