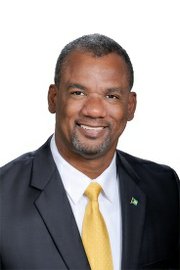 By LAMECH JOHNSON
Tribune Staff Reporter
ljohnson@tribunemedia.net
EDUCATION Minister Jerome Fitzgerald yesterday reaffirmed the new government's commitment to doubling the education budget, despite the challenge of the country's huge deficit.
Speaking with The Tribune at a Government House reception following the opening of Parliament, the cabinet minister said he had already reviewed and submitted a proposed budget for education.
He gave assurances that a major adjustment would be visible in the 2012-2013 budget.
Mr Fitzgerald said: "We made a commitment to double our investment in education and training and you will see a major adjustment to the budget in that regard. As you are aware, the budget has been cut consistently since 2007, unfortunately, and it has impacted negatively on the application of our education.
"I have reviewed and revised the education budget and sent it in and I anticipate that the ministry get its initiatives and programmes going.
"We understand these are very challenging times, and I understand the deficit from last year is going to be over $500 million, but we made a commitment that we'd be able to get the necessary resources to start the programmes and the initiatives that was spoken about in our charter for governance."
The government yesterday outlined a number of plans for education, based on the belief that learning "is the key to both personal and national empowerment".
"Conscious of that truism, my government will seek to reform our educational system to bring it more technologically in tune with 21st century challenges and to better position Bahamians to compete for jobs both locally and on a global level," Prime Minister Perry Christie said in the Speech from the Throne.
To accomplish this, the government listed 11 objectives, expected to be achieved in the next five years, including the introduction of a standardised national high school diploma programme, a system of career path academics at the secondary level, legislation to establish the University of the Bahamas and regulations to establish and oversee new standards for pre-school and early education, among others.
Mr Fitzgerald also sought to ease fears that funds allocated to education would be wasted and mismanaged after they are disbursed throughout the various sectors of the ministry.
"We intend to tighten up tightly on the expenditure of funds and I'm going to review all the procedures with regard to the management of the funds and the way contracts are allocated," he said.
"I've begun to do that now but after I've had an opportunity to review it in full, I'll make the necessary adjustments to ensure that there is proper accountability and transparency in place."