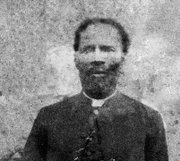 By JEFFARAH GIBSON
Tribune Features Writer
THE FAMILY of the second black Bahamian Anglican priest, Fr Marshall Cooper, has organised several events to celebrate his legacy.
Fr Cooper's family is seeking to reunite relatives scattered across the Bahamas, the Unites States of America and the United Kingdom at a special reunion to reflect on the contributions of Fr Cooper.
A park in Mason's Addition will also be rededicated in Fr Cooper's honour. The park was first named by the government of the Bahamas in 1969 because of his outstanding service. The rededication of the park will take place on May 26 at 2pm.
His descendants are proud to be a part of Fr Cooper's rich history. Ms Thompson said the events are fitting for the kind of man he was.
"Apart from the anticipated opportunity for renewal of convivial family ties, our reunion will highlight and focus on the contributions," said great granddaughter Lindsay Thompson.
Fr Cooper was ordained a priest in New Providence on April 26, 1885. He was also the first black priest to preach at Christ Church Cathedral. He served as priest on several islands including Andros, Cat Island, and Rum Cay. He also served as the rector of St Augustine's in San Salvador and St Anne's, in Fox Hill.
Fr Cooper is considered by his family a jack of all trades, as his service extended far beyond the pulpit.
"During his tenure as a priest, he was also employed as a teacher. He was a gifted man, he also assisted in the delivery of babies. He was a great problem solver and was thought of as the 'father of everything'. He always wanted to see progress made in the name of the church."
Fr Cooper's mother was an enslaved woman from South Carolina, who was brought to Nassau along with other enslaved Africans to be put to work in the Bahamas.
"On the way she rescued one of her master's children from drowning, who while playing on the deck accidentally fell overboard. For this act, she was granted her freedom. After arriving in Nassau, she decided not to return to America. She later married William Cooper and they had 11 children - four boys and seven girls," said Ms Thompson.
Although slavery was abolished during the time of Fr Marshall's priesthood, he and his wife Leonora, faced racial discrimination in the Bahamas. These were obstacles they eventually championed.
"He had to endure racial discrimination and she was faced with ostracism from her family for marrying a black man. They were determined to be together and they had eight children," she said.
Over the years Fr Cooper made many strides to help the Anglican church in the Bahamas progress. After his retirement from the priesthood, Fr Cooper passed away on August 31, 1919.