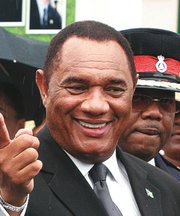 By SANCHESKA BROWN
Tribune Staff Reporter
sbrown@tribunemedia.net
THE Government yesterday promised to hold a referendum on a national lottery and the decriminalisation or regulation of "numbers" houses.
In the Speech from the Throne, Prime Minister Perry Christie said the people will decide the fate of gambling the Bahamas.
"In accordance with its Charter for Governance, my government will also hold a referendum for the Bahamian people to decide whether a national lottery should be instituted and/or whether webshop-type gaming should be decriminalised but nonetheless regulated in accordance with internationally accepted best practices and in a way that would ensure revenue generation for the country."
This is not the first time a referendum on gambling was promised. In 2010 former Prime Minister Hubert Ingraham said his government was considering legalizing and regulating the local number houses in the Bahamas.
However, after consultation "with a wide range of community leaders and other citizens, including leaders of the church, the government has decided not to proceed with the legalization of the numbers business."
Mr Ingraham said his government decided against holding a referendum before the general election as it did not want to "mix up the two."
As it stands gambling is illegal in all forms for Bahamians and non-citizen residents of the Bahamas.
It has been estimated that a national lottery could pump more than $190 million into the Bahamas' economy annually.
Currently there are at least 16 independent numbers houses in New Providence alone, with another six in Grand Bahama and a few spread throughout the Family Islands.
Number houses employ up to 3,000 Bahamians directly with an annual payroll of more the $6 million per annum. Dicrius Ramsey, general Manager of Island Luck, told The Tribune in a previous interview.
Making his case for legalizing local gambling or playing numbers, Mr Ramsey said numbers houses also indirectly employ 2,000 Bahamians and have injected as much as $100,000 per month into community organizations.
The Bahamas Christian Council (BCC) has gone on record opposing the legalization of gambling in any form in the Bahamas.
Earlier this month, after the PLP announced they will provide details for a referendum on gambling within their first 100 days in office, President of the BCC Rev Dr Ranford Patterson said they are still opposed to the idea. He believes that more people are opposed to gambling than for it.
The BCC believes that a "country addicted to gambling and all the social ills tied to it condemns its people and generations to come to a society void of creativity and productivity."
The BCC said they think the government should come up with alternative solutions to produce and create wealth in our country.