By NATARIO McKENZIE
Tribune Business Reporter
nmckenzie@tribunemedia.net
THE Customs Department yesterday said it was seeking a global body's decision on the appropriate import tariff for lightbulbs and fixtures, after it again found itself in conflict with a well-known Bahamian renewable energy solutions provider.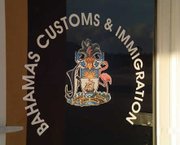 Philip Holdom, executive manager of Integrated Security Services (ISS), told Tribune Business telling Tribune Business that Customs was holding up a major shipment of duty free LED lights, having arbitrarily reclassified them as fixtures.
He said the Customs Department was levying a 35 per cent duty on the goods, instead of the duty-free status that should apply to LED lights. And Mr Holdom added that Customs was also undermining the Hotels Encouragement Act, which allows for the duty-free status on goods, as a portion of the shipment was for a resort in Abaco.
Customs Comptroller, Charles Turner, told Tribune Business yesterday that Customs was having difficulties with the classification of bulbs and fixtures, and had sought the advice of the World Customs Organsiation's classification committee, so as not to appear biased in its decision.
Still, Mr Holdom told Tribune Business: "This is a frustrating issue because this is a battle we thought was won and completed. We engaged in this issue over a year ago, and it was resolved by the previous Prime Minister, who put in a new tariff code which said LED light bulbs.
"ISS is in the business of importing energy efficient LED lights and energy saving solar systems. We are not in the business of importing fixtures."
He added: "This entire process has been frustrating, and has held up our ability to install them and messed up all our scheduling. This has been going on for three weeks now. It's also holding up other things with the shipment. We brought in approximately 250 LEDs as well as a solar hot water system and, of course, that's held up with the shipment. That system is going to Treasure Cay."
Mr Holdom said: "The issue really is an LED can look like many things. It can look like a lightbulb, a florescent tube or an outdoor fixture - it can look like many things but it is still an LED light.
"Part of the reason it may look like a fixture sometimes is because it has a built-in driver and dimmer. It is a completely new technology that is unlike any other. I have spent hours trying to explain to Customs the difference between a light and a fixture. Sometimes light fixtures are sealed units and you can't take it apart, and that's the case with LEDs, every LED is a sealed unit.
"They have to comprehend the new technology to realise that they are not looking at a regular lightbulb. The difference between a fixture and a light that looks like a fixture is if you plug both in, one will create light and the other will not. Once you call something a fixture it's electrical and it's 35 per cent duty."
In response, Mr Turner told Tribune Business: "There is a question as to what is a bulb and what is a fixture. We are not the technical experts, but we wrote to the World Customs Organisations classification committee as to what is a bulb and what is a fixture.
"We don't want to show any bias in making our decision, which is why we wrote to them. We have some other persons in this same situation. We have written to them on those as well. It appears that they are having some problems with the classification as well. Usually they are quick with their decisions, but when they do have concerns they have to have further consultation. At times they to have challenges with these things. We will stand by their ruling."
Mr Turner added: "Fixtures are not duty free. We were of the opinion that they were fixtures and not bulbs. In the meantime, we would have said to him that he could have paid the rate, and if the WCO decides in his favour, the money would be refunded. The ordinary LED bulb is not a problem; LED bulbs are free. The problem is when there are attachments and they are all in one. We just want to be clear as to what is a fixture."