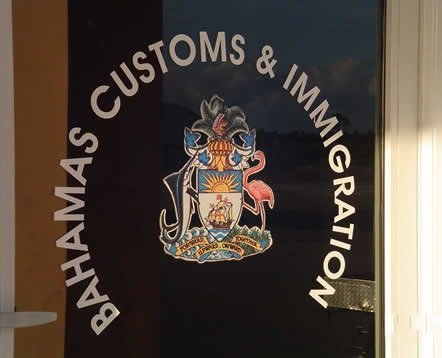 Stories this photo appears in:

THE Bahamas Customs, Immigration and Allied Workers Union has joined forces with several law enforcement associations to protest a new health insurance scheme.

VICE president of the Bahamas Customs and Immigration Allied Union, Sloane Smith, yesterday said the new government has until the end of the month to initiate an "industrial agreement conversation" before union members "speak – and speak very loudly."

BAHAMAS Customs wants Cable Bahamas Ltd to pay the millions of dollars it reportedly has owed the agency for as long as a decade.

BORDER control remains a major concern for customs according to its Comptroller Charles Turner who said that a large portion of the $16.5 million Inter-American Development Bank (IDB) loan would be used to train customs officers for WTO accession.

Brokers said yesterday that upgrading Customs procedures to an automated system would add greater efficiency to the way they do business, one telling Tribune Business that there were many things the revenue collector had to "come up to speed" on.

THE Government's decision to reinstate Exuma's duty-exemption eligibility under the Family Island Development Act was hailed yesterda

The Customs Department yesterday said it was seeking a global body's decision on the appropriate import tariff for lightbulbs and fixtures,

CUSTOMS brokers said yesterday that their operations had "slowed down" due to the ongoing strike action by the Bahamas Customs, Immigration and Allied Workers Union (BCIAWU).
SEVERAL hundred Customs and Immigration Workers are on strike today after efforts to negotiate a new industrial contract with the government stalled once again.