By NATARIO McKENZIE
Tribune Business Reporter
nmckenzie@tribunemedia.net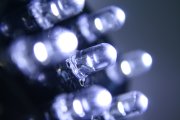 A BAHAMIAN renewal energy services provider yesterday remained adamant it will not pay a 35 per cent import duty on LED lights, saying Customs had been waiting four years for advice on how to clasify them.
The Customs Department had previously told Tribune Business it was seeking a World Customs Organisation (WCO) decision on the appropriate import tariff for light bulbs and fixtures, after it had again found itself in conflict with Bahamian renewable energy solutions provider, Integrated Security Services (ISS).
]Philip Holdom, ISS executive manager, said yesterday: "Customs has been waiting for a response from the WCO for over fours years on this issue. I believe that as an autonomous sovereign nation it is within our power to use common sense in interpreting the Tariff Code correctly.
"This is not as complicated as they are making it out to be. ISS will not pay the 35 per cent duty for an LED light that is duty free, so as not to encourage this abuse of government power and dissolution of trust between commerce and the Customs Department."
Mr Holdom told Tribune Business last week that the Customs Department was holding up on a shipment of LED lights, having "arbitrarily" reclassified them as fixtures.
Mr Holdom said that due to a portion of the LED light shipment coming in under the Hotel Encouragement Act, Customs was subsequently forced to acknowledge them as duty free.
"We did not initially submit the shipment as under the Hotel Encouragement Act because of our assumption that the duty-free tariff code for LED lights still had meaning, Mr Holdom said.
He added that he was now being required to separate approximately 30 LED lights that would not be considered to be under the Hotel Encouragement Act, and would be charged at 35 per cent duty.
"ISS has expended over $5,000 of its own resources in this current unnecessary battle with the Customs Department, and over $15,000 two years ago over the same nonsense," Mr Holdom said.
Customs Comptroller, Charles Turner, in a recent interview told Tribune Business that Customs was having difficulties with the classification of bulbs and fixtures, and had sought the advice of the World Customs Organsiation's classification committee, so as not to appear biased in its decision.
Mr Turner told Tribune Business: "There is a question as to what is a bulb and what is a fixture. We are not the technical experts, but we wrote to the World Customs Organisations classification committee as to what is a bulb and what is a fixture.
"We don't want to show any bias in making our decision, which is why we wrote to them. We have some other persons in this same situation. We have written to them on those as well. It appears that they are having some problems with the classification as well. Usually they are quick with their decisions, but when they do have concerns they have to have further consultation. At times they to have challenges with these things. We will stand by their ruling."