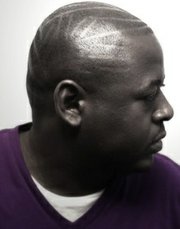 By Farah
THE story behind Bahamian rapper Sasha Dunn's new mix-tape will become the plot of a movie, scheduled to hit the big screen towards the end of the year.
Hazy Dayz & Crazy Nightz, the mixtape, depicts the good and bad side of life in Nassau. There is a combination of sensual songs and those that tell more serious stories.
The movie, which carries the same name, is in the early stages of production. Fans will get a closer glimpse into the life of Sasha Dunn, who is the author of the script. Shooting for the movie is expected to commence mid-summer.
To launch the new mixtape, the rapper will perform at Club Foxies Thursday at 8pm.
Several artists including Bmarie, Dumbo and Tru-Story, Monstarz Inc, Mad Van, Young Magic and C.A.P. are expected to perform along with Sasha.
"The true inspiration to this one was my life as it is. The partying, sex, drugs and hip hop. The mixtape depicts modern day Nassau as it is, the good and the bad," Sasha told In Ya Ear.
"The Epic of The Notorious Dunn" was Sasha Dunn's first mixtape. It was released several years ago. Sasha said he expects Hazy Dayz and Crazy Nights will be equally successful as the former.
"It is very provocative with songs like "Juice" and "Pumm Pumm Sweet". But we try to balance out the album with more serious tracks like Circulate and Pain," said Sasha.
"People should listen if they want to hear someone put a true voice to a generation of Bahamians. The mixtape is like a live broadcast from the streets. It is the live action of Nassau," he said.
"For the most part I would just be happy for people to walk away feeling entertained but if the can feel some inspiration or comfort in the music that would be and added bonus," he said.
Apart from working on the new movie Sasha is also assisting Bahamian artist Young Magic with the release of his own mixtape. Thereafter, he will work on perfecting his sound to put out a new album.
"Mentally I am putting it together so it wont be long before it becomes reality. In life everything is about timing and I feel like now is not the time for me to drop an album," Sasha said.
The artist is also planning a country wide tour. He said he is also hoping to secure several venues.
"I will be carrying my team along with me so we can tour all over the Bahamas," he said.