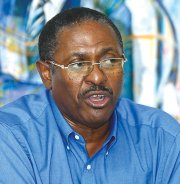 PLP CHAIRMAN Bradley Roberts has dismissed claims that his party has purchased nearly $750,000 worth of new vehicles for the government's new cabinet.
Explaining that the purchase order for the vehicles had been made some two months ago under the previous FNM administration, Mr Roberts said that the order had nothing to do with Prime Minister Perry Christie's new cabinet.
"Let me also say that maybe there may be a justification for ordering these cars, because it has been brought to my attention that these ministers' cars have apparently been run like they were running BEC's generators.
"They ran them without any maintenance until they stop running.
"Some of these cars are in terrible shape I am told. The same way they operated BEC without carrying out maintenance is the same way they were operating the cars," Mr Roberts said.
Mr Roberts also reminded the public that former Prime Minister Hubert Ingraham had also purchased a new car for his office some two months before the May 7 general election.
It is understood that it became necessary for Mr Ingraham to purchase a new car when the American-made prime minister's car that he inherited in 2007 from the Christie administration broke down.
The bill to repair that car made it cheaper to purchase a new car, The Tribune was told.
The Kia that Prime Minister Christie now drives is the car that was purchased for Mr Ingraham earlier this year, and which Mr Christie inherited on becoming prime minister on May 7.