By NEIL HARTNELL
Tribune Business Editor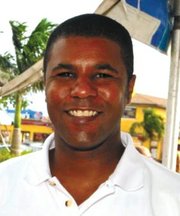 THE Bahamas Real Estate Association (BREA) has enjoyed "its best month in years with the Government", its president yesterday saying that the Christie administration's acceptance of its $50,000 real property tax cap recommendation would have a "huge impact" on properties valued at more than $5 million.
Disclosing that the BREA Board had submitted to the new government various suggestions on how the Bahamian real estate market could be stimulated, Franon Wilson told Tribune Business: "One of those items was putting a $50,000 ceiling on real property tax.
"The BREA Board felt it would have a huge impact, especially on homes valued at over $5 million. For the Government to move in that direction, it really and truly gives people cause to get excited when going back to speak to their clients and potential clients about why they should buy property in the Bahamas."
The Christie administration also reduced the top Stamp Duty rate for homes valued at more than $250,000 from 12 per cent to 10 per cent in yesterday's Budget, and Mr Wilson told Tribune Business: "Between this [the real property tax cap] and the reduction in Stamp Duty, this is the best month BREA has had with the Government in years.
"For us, it's truly been the best month in years in dealing with the Government. It really shows this government is aware of what's going on, and seems to be making an effort to stimulate activity in the real estate sector."
Mr Wilson said the $50,000 real property tax cap was "great news" for the high-end Bahamian real estate market. For properties valued under $5 million, the Government would still be able to levy the same real property tax rates, he explained, but previously rates of 1.25 per cent were being levied on real estate worth more than that amount.
"Anything over $5 million is where we'd start to see some type of benefit," the BREA president said. "You're talking about some really large homes. For the high-end sector, it's great news. For the Government to have accepted the situation, it's really refreshing."
Pointing out that wealthy second homeowners generated both direct and indirect employment, through posts such as housekeeping and caretakers, and sectors such as construction and landscaping, Mr Wilson said increased activity in the high-end real estate market would create a 'trickle down' effect on the economy that benefited all - including the Government.
"The fact of the matter is that the Government has taken a position to give up a little bit upfront with a view to getting more in the long run through greater activity, and that's what's needed in the long run - to create this stimulus," he added.