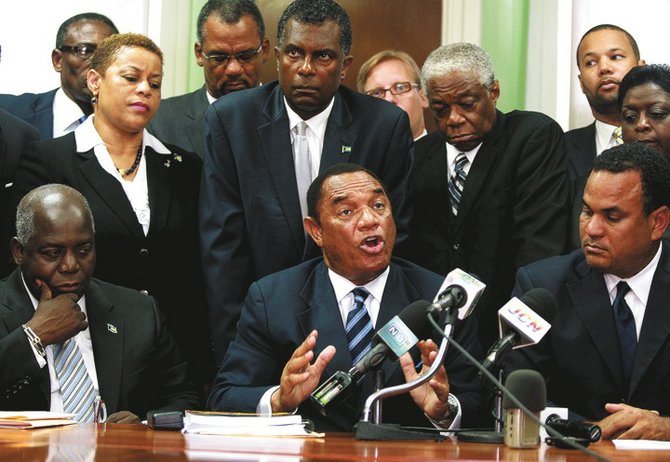 By CELESTE NIXON
Tribune Staff Reporter
cnixon@tribunemedia.net
THE government will seek to prevent any future government from awarding contracts after the dissolution of Parliament, said Prime Minister Perry Christie following the discovery of contracts awarded by the FNM up to election day.
Describing the contracts as "bribes," Mr Christie said he is concerned about contracts awarded under the former government just prior to the 2012 General Election.
He said: "We have been very concerned about the port deal, we have been concerned about the way in which the former government in the last days and few weeks before the election took place - offering people jobs.
"We know that is clearly wrong we have indicated that we are going to take steps to prevent any government, including ours, from doing that kind of thing because it is bribery and is offensive. We are not going to allow that to happen."
During his address in Parliament yesterday, Prime Minister Perry Christie said the government will soon table legislation to prevent the Government from entering into contracts, including those of employment, or the payment of public funds between the date of the dissolution of Parliament and the date of election unless contracts are determined to be essential by an independent statutory body.
"We have been left with sizable, ongoing capital expenditure commitments and a legacy of contracts entered into in the final days of the former administration," he said. "We are committed to putting an end to such practices."
Mr Christie said the government will determine if a commission of inquiry is necessary to investigate these matters.
The government is currently in the process of reviewing contracts and programmes, said Mr Christie. While one or two contracts have been suspended, he said, no contracts have been reversed and are only being dealt with following legal advice.
Prime Minister Christie said the newly-formed PLP government has not changed its position on BTC and intends to move forward exploring options to have the majority shares transferred back to the government. He said: "We remain faithful to our commitment to explore all lawful means by which majority ownership of BTC can be restored to the Government and the Bahamian people."
While Mr Christie could not give an exact time frame as he said meetings will be set up with the majority owners as soon as possible, with the objective of gaining back the majority interest.