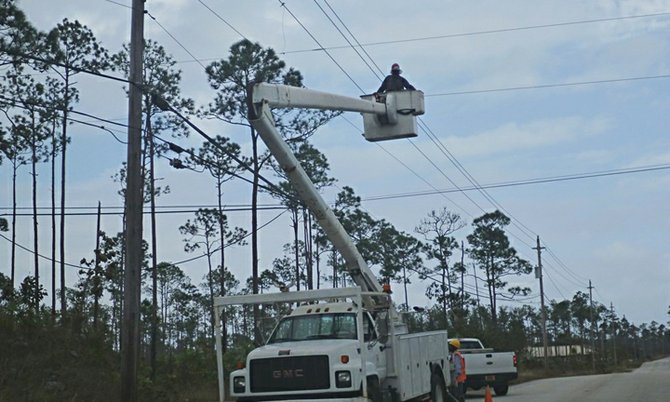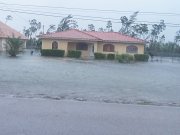 WITH Hurricane Sandy making landfall well to the north of Grand Bahama and The Bahamas, dozens of residents and business owners on Grand Bahama are vigorously working to restore a sense of normalcy to their lives and business operations.
Officials of The Grand Bahama Port Authority Limited's (GBPA) Building and Development Services Department say it's case of "inspections first" before electricity can be safely restored to premises which may have experienced flooding during Sandy's passing.
Vice President for the department, Arthur Jones, said once the storm winds began subsiding on Saturday, GBPA work crews and inspectors were up and about assessing the areas affected by flooding.

"There were a number of areas significantly impacted by flood waters. With regard to the city of Freeport and Lucaya, residential areas such as Queens Cove, Lincoln Green 1 and 2, Derby, Pine Bay, and Windermere are areas which raise the most safety concern for us," Jones said.
"Our inspectors are working closely with GB Power work crews to assess, tag and isolate the individual structures requiring inspection and repair work; this way we can restore service to the many other homes that do not have any water damage or flood issues. Our teams have been working around the clock in this regard.
"As a matter of urgency, we have put notices out to all media houses, advising businesses, homeowners and residents that before electricity services can be restored to any structure affected by flood water, there must be an inspection carried out and repairs made.
"Structures which experienced flooding in excess of eight inches above the 'finish floor level' or where water levels rose above electrical receptacles should be inspected before Grand Bahama Power can re-energise the site.
"This is a matter of safety and the wellbeing of residents, their property and businesses."
While Hurricane Sandy lingered just northeast of The Bahamas on Saturday, scores of residents were out and about to get a view of damages the storm left behind.
According to Ali Campbell, Building and Development Services Director, GBPA's Hurricane Command Centre received dozens of calls regarding flooding at Queens Cove, Queens Highway, the airport facility, Grand Bahama highway and numerous other areas of Freeport and Lucaya.
This flooding, he said was the result of seawater from the north shore of Grand Bahama, pushed inland by storm winds.
"As a result of the heavy flooding, our work teams are carefully assessing the damage in the affected areas. Once a structure is identified as flood damaged, an electrical inspection followed by the required repairs are mandatory before electricity be safely restored; this is to avoid potential hazards such as fires, electrocution or damage to equipment etc," Campbell said.
"We are urging public adherence and cooperation, so that we can move as quickly as possible to get the entire island, back up and running."
Work crews from Sanitation Services, GB Utility and GB Power Company were seen on the ground working throughout the day on Saturday, Sunday and Monday, conducting clean-up of storm debris and restoration of water and power supplies.
While GB Power crews have restored electricity to more than 90 per cent of customers, the areas of Queens Cove, Lincoln Green 1 and 2, Derby, Pine Bay, and Windermere, which were significantly affected by flood waters, were being assessed for electrical inspection and approval of premises before power supply is restored.
Homeowners and businesses affected by flood waters, or persons needing assistance or additional information, should contact GBPA's City Management Helpline at 352-2000.