By KHRISNA VIRGIL
Tribune Staff Reporter
kvirgil@tribunemedia.net
FOREIGN Affairs Minister Fred Mitchell, speaking from the Dominican Republic yesterday, said the Dominican government and its armed forces are committed to assisting the Bahamas in stopping Dominicans poaching in Bahamian waters.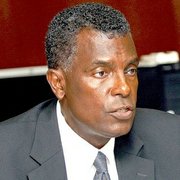 Mr Mitchell said he could not say more on the subject as he has yet to brief his staff.
However, said Mr Mitchell, officials of that country have already made several strong proposals that would assist the Christie administration in protecting Bahamian waters from Dominican poachers.
"I don't want to say too much on specifically what the Dominicans proposed, but I can say that their government has made it clear that they and their armed forces are committed to helping us in this initiative. They made proposals of their own and so did we.
"Both countries are committed to stopping unregulated fishing in our waters," he said.
Mr Mitchell said the Dominican officials were well prepared and very receptive to the Bahamas government's concerns.
"They were very organised on the Dominican Republic's side and ready to address the issues that we had."
Another meeting between the Royal Bahamas Defence Force and the Dominican Republic's armed forces has been scheduled to take place in two weeks.
Mr Mitchell with Minister of National Security Dr Bernard Nottage, Minister of Financial Services Ryan Pinder and Minister of Agriculture and Fisheries V Alfred Gray, held talks with officials from the Dominican Republic's Ministry of Fisheries, Foreign Affairs, and the country's Navy.
The meetings were sparked by deep-seated concerns by Bahamian fishermen that the Dominicans were for years illegally fishing in Bahamian waters and robbing this country of potentially millions of dollars in revenue.
Last week Mr Gray told reporters that the Bahamas government would also seek to lead an aggressive campaign in the Dominican Republic to discourage fishermen from illegally poaching in Bahamian waters.
At press time, members of the delegation were already on their way back to Nassau.