By DANA SMITH
Tribune Staff Reporter
dsmith@tribunemedia.net
THE government has negotiated nearly one million dollars in grants and loans for Hurricane Sandy relief efforts.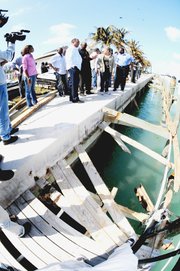 Prime Minister Perry Christie announced in the House of Assembly yesterday, the government secured a grant of $200,000 from the Caribbean Development Bank (CDB) and a loan of $750,000 from the InterAmerican-Development Bank (IDB).
"Both the IDB and CDB have agreed to assist with recovery efforts," he said.
Mr Christie also announced that he instructed the Ministry of Finance to prepare the Exigency Orders in respect to the islands "most impacted" by the hurricane.
"These Orders will provide customs duty exemption on the importation of required supplies and furnishings lost as a result of the hurricane," he said.
However, Mr Christie noted, more "creative means" of assistance are necessary.
"Technical assessment teams have also started to go into the islands to commence more detailed assessments of the extent of the damage so that recommendations can be made as to what assistance will be given," he added.
The large amount of funding and the start of the Orders were revealed at the end of his assessment report on Hurricane Sandy, which was aided by this week's tour of the affected islands.
The category two storm ransacked the Bahamas for three days, resulting in two dead, one injured and about 488 persons fleeing to shelters. Winds were up to 80mph and rainfall measured six to 12 inches.
"Hurricane Sandy impacted several islands in the Southeastern, Central and Northwestern Bahamas," Mr Christie said. "Significant impacts occurred on the islands of Grand Bahama and Long Island."
In New Providence, sea surges resulted in flooding along the coast line from Junkanoo Beach to the Caves which deposited large quantities of sand on the roadways and sections of the road either caved in or were washed out, he said.
"It is important that the structural design of these roads be revisited at the earliest possible opportunity," Mr Christie said.
In Long Island "significant damage" was done to the farms and minor damage to the roofs of homes.
"There is an urgent need to mount an initiative to assist farmers and fishermen to replace their crops," he said, before detailing the damage done to Cat Island.
There, the roadway between Knowles' and Smith's Bay has to be rebuilt and a two-storey home collapsed which "clearly demonstrated," Mr Christie said, that homes have to be constructed in accordance with the building code.
In Grand Bahama "a number of homes were impacted by excessive flooding" as was Fishing Hole Road, which prevented travel from Freeport to West End, he said.
"This road continues to post a major challenge during bad weather for vehicles travelling from east or west of that location," Mr Christie said. "There is the need for a proper engineering assessment to determine how best to deal with this situation."
As Freeport International Airport's domestic section had major damage from tidal surges, Mr Christie noted: "Clearly, the airport needs to be reconstructed on higher foundation."
In North Abaco, the main government and private docks were destroyed while in South Abaco, New Plymouth homes flooded with up to five feet of water.
In Eleuthera the Glass Window Bridge "needs to be thoroughly assessed" as stress cracks are clearly visible, he continued, and an engineering feasibility study has to be conducted so an alternative bypass link can be established.
The road between Polly Hill and United Estates in San Salvador experienced severe flooding as did Crooked Island's Church Grove, Cabbage Hill, Fairfield, and Landrail Point and Salina Point in Acklins.