THE Temple Christian Suns' third annual Gold Trading Primary Boys and Girls Basketball Tournament will wind down today at the Temple Christian Academy Gymnasium.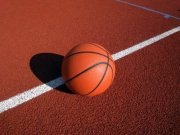 In the opening game at 3:30pm on the girls' side, defending champions Temple Christian Suns will play Carlton E Francis to determine who will advance to the final. Their opponents will come from the other sudden death semifinal game between the Freedom Academy and Palmdale Primary. The championship game will be played immediately following the boys' semifinal matches.
In the boys' semifinal that will be played after the girls' semis, Temple Christian will definitely have a team in the final as the Suns' A and B teams will clash. The winner will advance to the final to play the winner between Palmdale and Carlton E Francis. The boys' championship game will wrap up the tournament after the girls' champions are decided.
The final two games in the round robin were played on Thursday.
In the lone boys' match, Temple Christian A boys held off St John's 21-18 as Nathan Moss and Trey Fowler both had nine. Diego Knowles netted a game high 20 in a losing effort.
And in the lone girls' game, Temple Christian prevailed with an 11-4 decision over Palmdale. Kevonne McCaulsky poured in a game high eight points in the win. Alexis Sweeting and Volola Archer both had two points in a losing effort. On Wednesday, another series of games were played.
Suns 32, Palmdale 1
Tyler Lightbourne and Tamia Arthur both scored 12 points as the defending girls champions Temple Christian blew this game wide open.
Palmdale 11,
Carlton E Francis 10
Alexis Sweeting had six as Palmdale girls pulled off a nail biter. Anya Farrington had eight in the loss.
Suns 34,
Freedom Academy 15
The 1-2 punch exploded again for Temple Christian as Tamia Arthur canned a game high 17 points and Tylar Lightbourne added 15 in another lopsided win. Briana LaFrance had 12 in a losing effort.
Palmdale 15,
Genesis Academy 12
Joshua almost out-scored their opponents by himself with a game high 10 in a huge win on the boys' side. The losers got six from E Bain and four from P Mortimer.
Carlton E Francis 48,
St Anne's 11
Garvin Clarke and Javon Woodside both put on a show, scoring 25 and 21 respectively as Carlton E Francis continue their impressive run on the boys' side this year. Malik Kemp had seven in a losing effort. The tournament is slated to continue 3:30pm today with Freedom Academy taking on Palmdale in the girls' opener. That will be followed by Temple Christian Academy against St John's in the boys' game.