By KHRISNA VIRGIL
Tribune Staff Reporter
kvirgil@tribunemedia.net
A MAJORITY 'no' vote on referendum day would not only largely affect the thousands of persons employed in the "numbers industry" but cause an overall loss of revenue for corporations, said a web shop chief yesterday.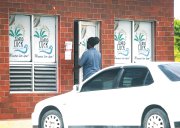 Deyvon Jones CEO of Whatfall.com insisted that much is to be gained from the legalisation of web shops despite strong opposition from the religious community which has largely played up "the moral compass" argument.
The Whatfall.com chain employs 170 person with 32 stores throughout the country.
Mr Jones said: "The only thing that would happen is those people who work for them (corporations) would be out of a job and those places who rent, they can't pay their mortgage. Those air condition people who supply those stores, they don't have their gig. Cable Bahamas they lose revenue, BTC they lose revenue. All these things is what would spin off of these 3,000 people who would show up to NIB for unemployment money. NIB is now getting less revenue because you take these 3,000 jobs away where money was being pumped in.
"If we look at everything morally then there would be a lot of things that change in this country. We won't drink. We won't smoke. We won't do all these other types of things that people like to do."
While those in favour of the web shop legalisation have questioned why the government has opted not to include a national lottery in the referendum, Mr Jones said he shares the same sentiment.
"I am not in favour of a national lottery simply because we don't have the population to sustain it, it's as simple as that. People have the misunderstanding that our success comes from lottery and it doesn't. A national lottery is more expensive to run."
The growth of web shops throughout the country has also generated attention internationally, Mr Jones said.
"There are so many in our region who want to do what we do. They call us everyday, but they don't know how to do it and we've done it and we've done it successfully. So the opportunity here is for our people to embrace this just as we embraced the prohibition of liquor and the prohibition of smoking. This is the way that the world is going and it's going to creating jobs," Mr Jones said.
Referendum voting is expected to take place on December 3.