By KHRISNA VIRGIL
Tribune Staff Reporter
kvirgil@tribunemedia.net
ANOTHER term in office for US President Barack Obama has signaled continued efforts to assist in reviving Haiti's economy and securing the Bahamas' financial services sector, Foreign Affairs Minister Fred Mitchell said yesterday.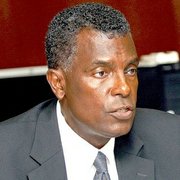 Mr Mitchell was responding to concerns of the implications, if any, to come with Mr Obama's re-election on Tuesday night that saw Republican nominee Governor Mitt Romney defeated.
And while the Bahamas is careful to remove itself from the US's internal politics, Mr Mitchell said the government would have welcomed whomever had won the election.
He made the statement at a press conference to announce the outcome of recent bilateral talks with the Dominican government.
"We obviously welcome a properly run election," Mr Mitchell said, "which has resulted in the re-election of the incumbent in the United States, but having said that even if his challenger had won we would have welcomed that as well. The Bahamas does not involve itself or engage itself in the internal politics of the United States.
"We expect that over the near term and throughout the rest of this term that the issues that we will work together on include the migration matters with Haiti with their economic development and the protection of our financial services sector. (There are also) security issues having to do with drug incursion and trafficking of persons and smuggling, which largely come to this country as a result of the United States being our closest neighbour.
"Then, of course, we'll be watching the developments with the economy of the United States because the development of the economy of the United States is key to the recovery here in the Bahamas."
Mr Mitchell said that a keen eye on the US's economy has come as a result of the government's concern to rejuvenate this country's job market and the lives of Bahamians.
"This government is fixated on the question of getting young people to work, getting unemployment down and getting people back to work so that they can take care of their families. So any policies which the US pursues with regard to that will be good for the Bahamas and we welcome those," the Minister said.