By KHRISNA VIRGIL
Tribune Staff Reporter
kvirgil@tribunemedia.net
A REPORT revealing the findings of a probe into an alleged questionable marketing contract was yesterday before Cabinet members for discussion, said Tourism Minister Obie Wilchcombe.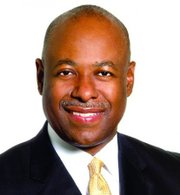 Mr Wilchcombe told The Tribune there have been "some findings" and that he intends to raise the issue in the House of Assembly next Wednesday.
At the centre of the probe are claims that came to light at the height of the 2012 general election campaign season during a heated argument between the PLP and FNM. At the time, it was asserted that the Ministry of Tourism led by former Minister Vincent Vanderpool-Wallace and the Ingraham administration had been conned into signing a $2 million contract.
Mr Wilchcombe while touring Deep Water Cay, East Grand Bahama, last week promised reporters that he would speak more on the issue when Cabinet met yesterday. However, when approached, Mr Wilchcombe was tight-lipped on the case only saying that the report was completed and being looked over by Cabinet.
When the statements were first made, the FNM was dismissive calling the claims "wild allegations and personal attacks," but the PLP were convinced that they were on the cusp of uncovering a "major scandal".
It is believed that the marketing contract was signed in 2010. The PLP has claimed that they are in possession of proof that the US company hired misled the government. They further said that the company never carried out the contracted services causing the agreement to be terminated.
The contract is valued at around $1,650,000 which was to be paid in quarterly instalments of $137,500 from September 1, 2010.
Mr Vanderpool-Wallace later said that the PLP had not been advised properly as marketing initiatives undertaken by the Ministry has saved tax payers millions of dollars.
He added at the time that the accusations were just a last minute strategy to disseminate "outright falsehoods."
"It is clear that the PLP has decided that since they cannot address the significant growth in tourism that the Bahamas is currently experiencing, nor can they deny the significant loss of air arrivals that came as a result of their ineptitude, they are now grasping at straws to attack the bearer of the facts," Mr Vanderpool-Wallace said.