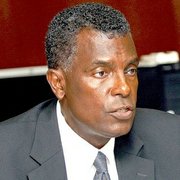 MINISTER of Foreign Affairs and Immigration Fred Mitchell congratulated the new Chinese leader, saying the Bahamas looks forward to continuing working with the People's Republic of China in an atmosphere of mutual respect and co-operation for the betterment of both countries.
The Central Committee of the Communist Party of China (CPC) met from November 8–14, 2012 in Beijing where the new Standing Committee of the Political Bureau elected Xi Jinping as the Secretary General.
The new Political Bureau Committee, Central Committee and Commission for Discipline Inspection were elected, proposed amendments to the CPC Constitution were reviewed and adopted and the work report of the Central Commission for Discipline was approved.
The Bahamas and China formed diplomatic ties 15 years ago, on May 23, 1997.
Hu Shan, Chinese Ambassador to the Bahamas, underscored the importance of the recent election and its implications for China relations with the Bahamas, the Caribbean and the world.
"The 18th CPC National Congress was a meeting of great significance and far-reaching impact," the ambassador said during a press briefing at the Chinese Embassy on Monday, November 19, 2012.
"The work report delivered by Hu Jintao on behalf of the 17th CPC National Congress, affirmed the achievements of socialism with Chinese characteristics over the past decade, projected a grand blueprint for China's future development, declared to people within and without the party and people from domestic and abroad a series of important theoretical and practical questions concerning the overall work of the Party and China," he said.
The congress set goals to ensure the deepening of reform and the building of a "moderately prosperous society in all aspects".
The congress also pledged to work to build a harmonious world by enduring peace and common prosperity "and are ready to work with the people of other countries to unremittingly promote the noble cause of peace and development for mankind," the ambassador said.
Diplomatic relations between the Bahamas and China have led to co-operation on a number of initiatives, including: the Thomas A Robinson National Stadium, the Baha Mar project, the Airport Gateway Project, agricultural and technical assistance and academic scholarships for Bahamians to study in China.