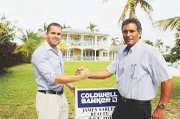 A Bahamian realtor is following in his father's footsteps, joining his firm after recently passing the Bahamas Real Estate Association (BREA) exam.
Nikolai Sarles will now be selling properties throughout the Bahamas, working with his father, James Sarles, president of Coldwell Banker James Sarles Realty in Grand Bahama.
Nikolai is the son of James and Marina Gottlieb Sarles. His mother, a Bahamian author, is the daughter of the island's first doctor and nurse, Dr Ejnar and Owanta, medical practitioners brought in to serve the Pine Ridge lumber camp residents when early Freeport was being built. They later relocated to Abaco and served the Marsh Harbour and surrounding communities for many years.

Nikolai's uncles are the late Cay Gottlieb, the founder of Cool 96 in Freeport, and Fred Gottlieb, attorney and former MP in Abaco.
Growing up in Freeport, Nikolai attended Sunland Baptist Academy before graduating from Ridley College in Ontario, Canada, and received his B.A. degree from Dalhousie University in Halifax, Nova Scotia.
No stranger to real estate, Nikolai grew up earning his allowance by helping his father put up real estate signs.
Through his exposure to a wide range of real estate projects, Nikolai developed a keen interest in the commercial and development side of the business, and will focus on renovation properties, rentals and first-home opportunities.
"I am the next generation", said Mr Sarles, "and I would like to see the early promise of Grand Bahama renewed. As a young Bahamian, I look forward to helping other young Bahamians to get their start in real estate and home ownership."