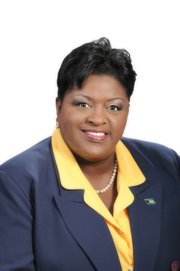 By KHRISNA VIRGIL
Tribune Staff Reporter
kvirgil@tribunemedia.net
PARLIAMENTARIANS have pledged to remove from the Constitution all forms of discrimination against women.
At present, Bahamian women are legally inferior to men in various ways, most prominently with regard to the right to transfer citizenship to their children.
But in a resolution adopted by both the House of Assembly and the Senate, and supported by the opposition, Parliamentarians agreed to remove all forms of discrimination against women as part of a wide-ranging constitutional referendum set for June of next year.
Also during yesterday's joint sitting, the five leaders at the helm of the women's suffrage movement in the 1940s and 50s were honoured.
Mary Ingraham, Eugenie Lockhart, Mabel Walker, Georgiana K Symonette, and Dame Doris Johnson were praised for their contributions to women's rights in the Bahamas, which eventually enabled 54,000 women equality among men and voting rights.
Bahamian women were allowed for the first time in history to vote on November 26, 1962. On that day, Ruby Ann Darling was the first woman to cast a ballot. She had just turned 21 years old.
To celebrate the 50th anniversary of women's suffrage, the almost one dozen women on the political frontline sitting in the Senate yesterday each recited excerpts from Dame Doris Johnson's speech, which she was not allowed to deliver in the House in 1959, because she was not a member and the House decided not to set a precedent for a "stranger".
She did, however, read the speech to House members when Premier Sir Roland Symonette had a court room cleared and led House members to the court to hear her speech.
In the address, which was read on January 19, 1959, Dame Doris expressed her concern that women had not been enfranchised as had their male counterparts. She reminded them that the United Nations guaranteed a fundamental voting right regardless of race, colour, or sex.
While Social Services Minister Melanie Griffin told parliamentarians that the tenacity, boldness and stamina of the woman had been for a long time deserving of national acknowledgement, she called on the women of today to work together for the further advancement of equal rights.
"My sisters," said Mrs Griffin, "we still have many rivers to cross, we still have miles to go. Like the pioneers of the movement, we must put aside our differences and run with the baton. It is indeed our time now and we must not slack. God has provided this moment in time to give us a new awakening.
"We must not allow another term of government to pass without erasing all forms of discrimination against women in our country. This is not the time to squabble over bygones, we must forward, upward, onward, together. It is our season now, what are we going to do about it?"
Deputy leader of the opposition Loretta Butler-Turner said the women's movement in the country has grown by leaps and bounds.
"We are very happy that we are one accord. Moving forward to the resolution that there will be no discord because Bahamian women realise that we will finally get justice and look forward to being equal in every which way that the Bahamas can enjoy," Mrs Butler-Turner said.
For more on women's suffrage see today's Women's section in The Tribune.