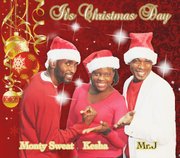 By FARAH

Tribune Features Writer
jgibson@tribunemedia.net
BAHAMIAN Gospel musician Gesner "Mr J" Dalmon encourages people to remember the birth of Jesus Christ and give thanks for the greatest gift of salvation presented to all humanity in his latest single.
This is the main theme of the artist's first ever Christmas song, "It's Christmas Day," which features Monty Sweat and up-and-coming artist Kesha.
"The song is about Christ's birth into the world. The themes I have addressed in the song is the virgin birth and the festive times during Christmas. The message is to remember Jesus Christ as the main reason why we celebrate Christmas. Without Christ there would be no Christmas day to celebrate. To remember him is to give time in prayer and thanksgiving to God on Christmas Day. I hope people receive the message of giving thanks to God and actually give thanks. This can be done by going to church on Christmas Day; having family time for thanksgiving and worship; and playing music about Christ at parties," said Mr J.
The new single is not the only Christmas song Mr J intends to release.
"Have A Merry Christmas" a solo production also by Mr J, will hit the airwaves on December 1. It is also featured on a compilation CD produced by Kelda "Timeless" Sweeting from Freeport. The CD is called Sunday Cool Riddim Christmas Compilation.
Next year Mr J plans to release several singles, while taking on new ventures such as forming a new reggae band.
"I will also be working on my mix-tape which will be available for free download. I am presently looking for band members to form my reggae band. If the band can be successfully formed before April 2013, they will be able to travel with me to Guyana where I have an invitation to perform at an event called The Real Easter Jam. This is an annual event held every Easter Monday."
Other projects scheduled for the beginning of the New Year include the release of two music videos. The first video the artist said is for the single "I'm A Virgin", which promotes sexual abstinence. "This will be a national campaign to promote abstinence until marriage."
"The second video is "Thank God For Life", which features a well known international recording artist. I have a single which will be released on a compilation album produced by Christin "Spirit" Taylor who is a producer here in Nassau. This single is entitled
"God Is My Light", which will feature gospel recording artist Jason Providence from Toronto, Canada. I also have another single entitled "Hands In Praises", which features Trinidadian singer Hannah Babb," he told In Ya Ear.