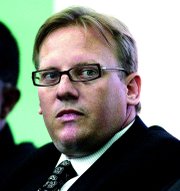 By NATARIO McKENZIE
Tribune Business Reporter
nmckenzie@tribunemedia.net
FINANCIAL Services Minister Ryan Pinder said yesterday that legislation was being drafted to modernise the Bahamas' intellectual property rights regime, acknowledging that the country jurisdiction was further behind others in reforms in this area.
"We're a late comer to trade liberalisation and WTO accession," he said. "We signed the EPA last of all the CARIFORUM countries, and intellectual property modernization is a component of your trade liberalisation regime, as persons trading with you want to know that they can protect their products as well.
"It would be safe today [to say] that our legislative reform is probably behind that of other countries, because we have been behind in our trade process. We have very competent personnel in the Attorney General's office, the Ministry of Financial Services and Cabinet. We don't see that as a liability; we are going to be to able to execute, consult and to push forward with the mandate."
Mr Pinder said draft legislation was in the works, and he hoped to table it in Parliament early in the New Year.
"The legislation is being drafted. We have had closed consultation sessions to get some comments and feedback from stakeholders. That feedback has been incorporated into the legislation. We're doing a final review of the legislation. We hope in the New Year to bring the legislation to parliament. Our goal would be to have it tabled and debated by the first quarter," said Mr Pinder.
He told Tribune Business that the legislation was key to this jurisdiction's accession to full World Trade Organisation (WTO) membrship and complying with its Economic Partnership Agreement (EPA).
"We at the Ministry of Financial Services, in partnership with the Attorney General's Office, have been working on draft legislation to modernise our intellectual property regime, which includes patents, trademarks, copyrights and really any item that you would want to protect," Mr Pinder said.
"We speak about wanting to be a trade hub and industrial centre, so we can't expect companies to come and do business inthe Bahamas and bring their technology if they don't have the confidence that it is protected on the international level.
"That is why we have to work to modernise our intellectual property regime. It's in the context of our legislative reform for trade and World Trade Organisation (WTO) accession as well as the EPA; it's a requirement of our Economic Partnership Agreement signature a well.
"The Attorney General's office is very active with respect to modernising the intellectual property regime. The entire Registrar's department is being redone from scratch to be more digital, more modern and really responsive to the international community," said Mr Pinder.
"We're excited about it. It's a lot of hard work and reform, but it's something the Government is committed to. It's the backbone for providing future opportunities for Bahamians."
Regarding WTO, Mr Pinder told this newspaper, "Things are going well with WTO. We have been having dialogue with a number of countries. We have had recent dialogue with China, who is very enthusiastic about our participation.
"We are doing some internal technical evaluations on different offer models that have come in, and we are preparing to have our embassy in Geneva opened before our working group session in March.
"We hope to have one good legislative reform, which this IP legislation is a part of, as well as some meaningful progress on our negotiations to report."