By SANCHESKA BROWN
Tribune Staff Reporter
sbrown@tribunemedia.net
CRIME in the Bahamas is down 6 per cent overall for the first three quarters of 2012 compared to the same period last year, Commissioner of Police Ellison Greenslade said yesterday.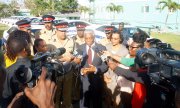 Speaking to the press, the Commissioner said there have been significant decreases in all crimes against property and in all categories of crime against the person, with the exception of armed robberies.
According to statistics 
released by the Royal Bahamas Police Force there has been a decrease in serious crimes from January 1 to November 8, 2012 compared to the same period in 2011.
Overall crime in New Providence has decreased by 2 per cent, in Grand Bahama by 23 per cent and in the Family Islands by 14 per cent.
For the entire Bahamas, murder has decreased by 12 per cent from 110 to 97, rape has decreased by 3 per cent, attempted rape dropped significantly by 68 per cent from 25 to 8, unlawful sexual intercourse also decreased by 10 per cent and robbery and attempted robbery dropped by 4 per cent and 41 per cent respectively.
However, attempted murder increased by 125 per cent from 8 to 18 and armed robbery also increased by 18 per cent from 804 to 951, during the same period last year.
Manslaughter remained unchanged.
As it relates to crimes against property, burglary also decreased by 6 per cent, housebreaking is down by 15 per cent from 2827 to 2394, stealing is down by 6 per cent, while stealing from a vehicle and stolen vehicles have decreased by 8 per cent and 2 per cent respectively.
However, there was a slight increase in shop breaking by 3 per cent from 825 to 852 compared to the same period last year.
Police also removed 445 weapons off the streets and 6323 live rounds of ammunition. According to statistics the majority of the firearms, 283, were collected during "intelligence" work.
 Commissioner Greenslade attributed the decrease in crime and the increase in firearm recovery to the hard work and dedication of officers as well as support and cooperation from the community.
"When you look through the reports you will see a category called recovered weapons and it will implicate that they were found during intelligence. What it means is our communities, fully accepting that they should be a part of what we do to help keep the country safe, will ring us up and say, 'I will tell you where a gun is' and so the information comes into us, it is intelligence driven," he said.
"When I spoke to you at the beginning of the year and reported on last year, it was a dismal picture and I said we worked hard but I didn't have very many positive things to say. I can now say it and I believe it is fair to say it to the public and to thank the hard working men and women of the organization and by extension our colleagues in Immigration, Road Traffic, the Defense Force and prisons who all play a part in public safety in helping us keep the Bahamas safe."