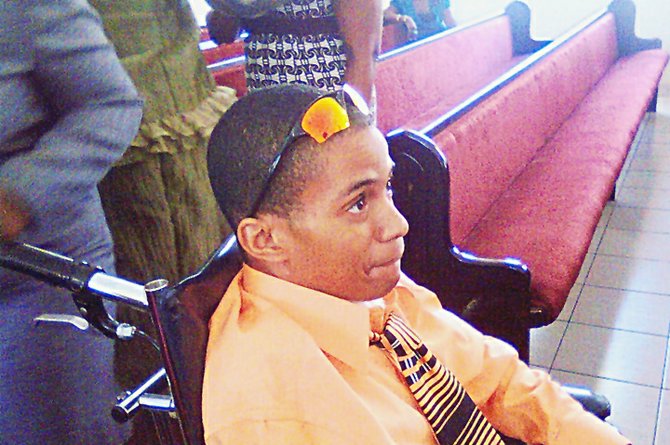 By CELESTE NIXON
Tribune Staff Reporter
cnixon@tribunemedia.net
A MOTHER is making an emotional plea for help with her paralysed son's physical rehabilitation.
Jacqueline Ford is appealing to the public for assistance with Renaldo Gibson's medical expenses and further treatment in the United States, in the hope he will one day walk again.
At 16, Renaldo was paralysed in a horrific car crash in when he was thrown from his mother's car after a truck hit the passenger side of the vehicle, where he was seated.
Brought to tears during an interview yesterday, Mrs Ford said Renaldo, who just celebrated his 20th birthday, is now breathing without the assistance of a ventilator for the first time since the accident.
Mrs Ford said less than a month ago, she transported Renaldo to the Lucerne Hospital in Orlando, Florida, where his physiotherapy will cost upwards of $50,000.
Renaldo has made dramatic improvements since admission according to Mrs Ford, who said doctors believe with the right treatment he may be able to walk again.
Without health insurance and forced to take a leave of absence from work to take care of Renaldo, Mrs Ford said she has struggled both emotionally and financially.
She said: "It has been a big struggle and still is but I can't give up on my son.
"He is optimistic and in very strong spirits, always with a smile on his face, even after the accident Renaldo believed that he would walk again."
Before the accident, Renaldo, the third of four brothers, was actively involved in a number of youth organisations connected with his church and school.
He was a member of the youth choir and an usher at his church.
Anyone who wants to lend the family support or offer donations is asked to contact Jacqueline Ford at 468-2195. Rhodes Memorial Methodist Church is also accepting donations on Renaldo's behalf.