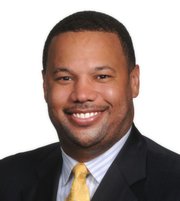 By NEIL HARTNELL
Tribune Business Editor
nhartnell@tribunemedia.net
A major sports betting and mobile gaming operator is aiming to bring its Las Vegas-style offering to this nation's casinos, as momentum builds to reverse a decline that has seen the Government's tax revenues drop 29.4 per cent in the past six-eight years.
Dr Andre Rollins, the Bahamas Gaming Board's chairman, yesterday told Tribune Business that Cantor Gaming was prepared "to invest in the Bahamas", and had already held "high level" discussions with government officials.
Cantor Gaming already operates seven sports and race books at different Las Vegas casinos, and is looking to play the same role in the Bahamas ' casino industry - acting as the niche operator for a key business segment at existing properties.
And Cantor's presence in the Bahamas would also tackle two weaknesses that the Bahamas Hotel Association's (BHA) Casino Committee is urgently seeking to combat via legislative reform - mobile gaming and larger sports wagers.
Dr Rollins, who was part of a joint Gaming Board, government and BHA delegation that has just returned from a major international gaming conference in Las Vegas, and meetings with the Nevada state regulators, conceded to Tribune Business that "it should have never taken this long" for the Bahamas to focus on modernising its gaming legislation.
The Lotteries and Gaming Act 1969 has not undergone wholesale reform since its introduction, but Mr Rollins, also the MP for Fort Charlotte, said he "envisioned" the necessary reforms being passed by Parliament, and implemented, by March 2013.
Noting that gross casino revenues in the Bahamas had declined to $146 million per annum, despite stopover and cruise passenger visitor numbers going in the opposite, upward direction, Dr Rollins said this had also affected the Government's gaming tax revenues.
He disclosed that these had dropped from $17 million to $12 million per annum over the last "six-eight years".
And the Gaming Board chairman said the regulator was also looking at whether to outsource some of its equipment inspection functions, plus a structural change.
Consideration was being given to the formation of a Bahamas Gaming Commission, Dr Rollins told Tribune Business, and whether the regulatory structure should follow the Nevada model or simply rename the existing Board.
He explained that in Nevada, while the state's Gaming Board was responsible for enforcing rules and regulations, its Gaming Commission had responsibility for looking at the bigger picture - ensuring the laws kept pace with international best practices and standards.
Dr Rollins confirmed that the Bahamian delegation that visited Las Vegas in early October had met with Cantor Gaming, which was set "to take a key role in advancing gambling on sports" in local casinos.
Currently, Dr Rollins said Bahamian casinos were "nor prepared to take on certain levels of wagers because of the associated risk" - a potentially big payout and loss.
Cantor, he added, used "very sophisticated" maths algorithms to make more educated risk assessments, which "puts them in a better position to take bets that will not be taken by local casinos".
It was also able to spread the risk out across its various operations, and Dr Rollins added of Cantor: "It's beyond the appetite of local hotel operators, but falls well within what they're prepared to do."
Revealing that Cantor was aiming to take on a much bigger role than just advising the Bahamas, Dr Rollins told Tribune Business: "Cantor Gaming is prepared to invest here in the Bahamas, and provide the same level of gambling experience for those wanting to gamble on sports.
"They will be putting into local casinos the type of operations they are doing with Las Vegas hotels. It's an extremely sophisticated operation, and a better calculation of risk.
"They [Cantor] have, of course, held some meetings with certain government representatives prior to us meeting them in Nevada. I believe that in the future there's going to be more high level conversations with a view to making that a newer part of the gaming experience in the Bahamas. It's in the pipeline."
Apart from improving "the depth of the sports gaming experience", Dr Rollins said the Government was also looking to amend the law to allow mobile gaming - enabling guests to use their phones and handheld devices to gamble from anywhere on the hotel/casino property.
"In the Bahamas at the moment, the laws and regulatory regime do not have that provision. We do not have answers to new developments in gaming," Dr Rollins told Tribune Business.
"It's obvious that the regulations, the gaming laws have to be totally changed to assist with these new ventures that the 1969 legislation never contemplated.
"One of the things that is apparent is that this country has been too slow in modernising legislation and the regulatory regime."
Noting that other jurisdictions, such as Macau and Nevada, were "far more aggressive" in regularly updating their laws, Dr Rollins said this was the Bahamas' first concerted reform effort.
"It should never have taken this long," he told Tribune Business, "and we're doing whatever is necessary to facilitate then type of environment that ensures there is no fall-off in the gaming environment for any visitor. I fully support the effort."
There had been a "gradual decline in the last 10 years" in the Bahamian casino industry's revenues, which had impacted government tax revenues from the sector.
"We've seen a decline from $17 million to $12 million within the last six-eight years," he confirmed.
"What I'm envisioning, when it's done, is that we're looking at March 2013 as the time when we will see the changes to the gaming laws come into effect."