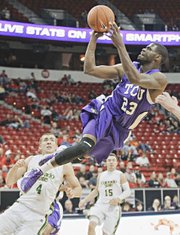 by RENALDO DORSETT
Sports Reporter
rdorsett@tribunemedia.net
After a successful collegiate career in both the the NJCAA and NCAA, JR Cadot now moves to the professional ranks on the European basketball circuit.
Cadot signed a one year deal with BK Spu Nitra, the top club in the Slovakian League, last week.
The 6'5" 205 pound swingman finished his career at Texas Christian University averaging 10 points, 6.5 rebounds and shot 56 per cent from the field in 65 games played, good enough for second place on the TCU All-Time list.
He was also named one of the top players in the conference as a member of the All-Mountain West Third Team.
Cadot announced the deal and released an official statement in an interview with Kyle Adams of the popular Houston Rockets blog "Space City Scoop".
"I'm really excited with my signing to the club Bk Spu Nitra in Slovakia. I believe that this team and league was the best situation for me in terms of me being successful during my first year as a pro.
"I'm thankful to God that I'll have the opportunity of playing pro basketball in a good league during my first year, not much rookies could say the same.
"I expect to achieve nothing but the best with my new team and club. Winning a championship my first year as a pro is my goal and that will be my motivation during the entire season," he said,
"I believe that we will have a great year as a team with the new signing of me and two other American players.
"Both guys played division one ball. My 6″11 teammate also a rookie from Cincinnati and a point guard from the University of Idaho.
"I believe in myself and will give 110% each night, my last words are, don't ever underestimate the heart of a champion."
Noted for his play above the rim, toughness and defensive ability, Cadot has a legit opportunity to find himself on an NBA roster.
Cadot spent last summer as a member of the Bahamas' 2011 CBC Championship team when he averaged 10.8 points and 7.1 rebounds per game. He will again compete as a member of the national team, this time for the 2012 Centrobasket tournament.
In just two years at TCU, Cadot transformed to an NBA level talent. His highlight reel play of the year came with his game winner against Houston. He took the ball near halfcourt, weaved through a trio of players to attempt a reverse layup and after the miss, followed with his own rebound and a fallaway layup at the buzzer to win it.
Cadot starred at C V Bethel Senior High where he led the team to a GSSSA title. He was named to several junior and senior national teams before taking his game to the US at Sheridan College.
Cadot posted impressive numbers at the junior college which garnered the attention of many D I schools across the country.
In his freshman season, he averaged 15 points and 6.6 rebounds per game but surpassed all expectations in his sophomore campaign.
As a sophomore, Cadot averaged 17 points, 7.8 rebounds and 2.4 assists per game. He was named to the NJCAA Third Team All-American and First Team All-Region IX. He posted eight games of 20 points and led the Generals to a 27-7 record overall.
Cadot's highlight game of his young career came just hours after learning of the passing of his father on February 23, 2010.
He managed to find the fortitude not only to play, but to produce a 32-point effort which included the game-winning basket to give the Generals the North Sub Regional Championship.
Heading into the D I ranks, he was ranked 64th overall and 27th amongst guards by JucoJunction.com, the foremost recruitment website for junior college prospects.