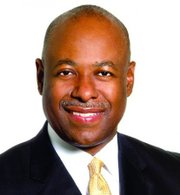 By KHRISNA VIRGIL
Tribune Staff Reporter
kvirgil@tribunemedia.net
TOURISM Minister Obie Wilchcombe says officials will soon release a comprehensive report on allegations against his predecessor during the FNM's 2007-2012 term in office.
Saying he would not go into detail so as not to pre-empt any major findings in the report, Mr Wilchcombe said an accounting firm was now reviewing the matter. On the last update to The Tribune, the Minister said the Attorney General's office was heading the probe.
"We are now waiting on the accounting firm that is handling the case, but we are expecting to hear from them at anytime," he said.
At the height of the 2012 election campaign, a heated argument erupted between the PLP and FNM over claims that the then Ingraham administration and its Minister of Tourism Vincent Vanderpool-Wallace were tricked into signing a hefty contract valued at more than $2 million.
While the FNM called the claims nothing more than "wild allegations and personal attacks", the PLP insisted that they had uncovered a "major scandal."
At the heart of the allegations is a contract for marketing services believed to have been signed in 2010. PLP officials claimed they had proof that the American company hired had misled the government. The PLP said that the company never performed the services claimed causing the contract to be cancelled.
However, Mr Vanderpool-Wallace said that the PLP were ill advised as the ministry's marketing efforts had saved the country millions.
"These last minute accusations from the PLP," he said, "are just a continuation of their strategy of disseminating overblown accusations or outright falsehoods.
"It is clear that the PLP has decided that since they cannot address the significant growth in tourism that the Bahamas is currently experiencing, nor can they deny the significant loss of air arrivals that came as a result of their ineptitude, they are now grasping at straws to attack the bearer of the facts."
Further claims stated that the US-based marketing firm purported that it had a qualified board of directors, and staffing to provide the ministry with services.
But the PLP said that the company did not have any such directors or staffing and was only comprised of a single individual.
The contract with this company is estimated at $1,650,000 – paid in quarterly instalments of $137,500 from September 1, 2010.
Addressing these accusations, Mr Vanderpool-Wallace said: "The simple fact is that there is no contract with the company that they describe as Destination Solutions-LLC.
"It is also clear that their source of the information does not have all of the facts and if they did, they would recognise that the marketing services arrangements of the Ministry of Tourism are saving the country and the Ministry millions in fees compared to previous arrangements."