By KHRISNA VIRGIL
Tribune Staff Reporter
kvirgil@tribunemedia.net
TOURISM Minister Obie Wilchcombe yesterday said concerns have risen over a proposed multi-million dollar hotel to be constructed at the Lynden Pindling International Airport (LPIA).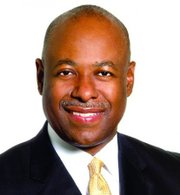 The Minister said he is not exactly sure of what its purpose would be as major development designed to cater to the overall tourist experience in New Providence are just 10 to 15 minutes outside of the airport. Mr Wilchcombe said the move would be heavily dependent on the nation's capital becoming a hub. Securing that status, he said, could possibly take years.
Nassau Airport Development Company (NAD) CEO Stewart Steeves told Tribune Business last week that there was no timeline for that phase of construction which has yet to begin.
"My concern," Mr Wilchcombe said, "would be what's the purpose. I'm not sure what they are going to do it for. I would think that what you require is Nassau becoming a hub. Then you might have some people who require a quick turnover. They might come in late at night and have to catch a flight early in the morning maybe that.
"Beyond that, it's going to be very difficult because the truth is we wanna get people into the city, to get people onto Paradise Island and get them out to the islands.
"We are going to have Bahamar which is a 10 to 15 minute ride, Albany might be a bit high, but you also have Sandy Port and others. So to have the inventory near the airport I'm not sure and I'm not fully understanding what the objective is. But I know full well that in the major cities they have the hotels at airports and that's because of a linking to the rest of the world and we are not doing that just yet."
The ministry's plans to bolster the city to hub status could be challenged if efforts to have ticket prices decreased are not successful, he said.
As it stands visitors travelling from New York City to Exuma could pay around $650 and face a six-hour layover in comparison to visitors from that same state travelling to the Cayman Islands who would spend $450. 
The ministry has also undertaken an aggressive marketing plan that is expected to support a more than 500,000 overnight visitor increase to the capital. That goal, Mr Wilchcombe said will depend on more airlift from North America and countries in that region.
"The Latin American market continues to grow significantly and we feel very good about it. We are now talking to some other airlines and, of course, the European market. So we have a very aggressive programme that we believe will pay dividends," Mr Wilchcombe said.