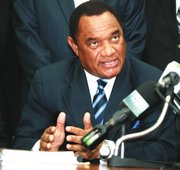 THE government has committed to launching a programme to modernise airports throughout the Family Islands.
Prime Minister Perry Christie made this announcement during the opening of Phase II of Lynden Pindling International Airport on Tuesday.
Without giving specific details, Mr Christie said the upgrades will be carried out according to the growth and needs of each community.
Following his speech, Minister of Transport and Aviation Glenys Hanna-Martin said the improvement of airports around the country are a key priority for the government.
She said: "Airports are important especially to us in the Bahamas, not as abstract pieces of steel but as critical engines to strengthening our social and cultural cohesion as one people and also to spark and ignite the economic potential and diversity of our wonderful island communities."
She said the government is committed to the "archipelagic flourishing" of the country and its people.
"We have a rich and diverse inheritance and we in this generation are challenged and charged with the exciting and important task of realising the potential of our people nationwide so as to fuel prosperity and to take our country to great heights," the minister said.