By LAMECH JOHNSON
Tribune Staff Reporter
ljohnson@tribunemedia.net
A VERDICT is expected to be handed down today in the double attempted murder trial of a man accused of shooting two Atlantis security guards on a Halloween night at Marina Village.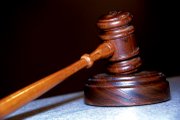 The nine-member Supreme Court jury is expected deliberate on whether or not 22-year-old Clarence Smith is the culprit behind the October 31, 2009 shooting.
Smith, of Dolphin Drive, who was arraigned in magistrates court on November 3, 2009, faces two charges of attempted murder.
It was claimed that on October 31, 2009, he tried to kill Dwayne De Costa, 46, and 33-year-old Troy Feaste. He has denied the charges.
His former co-accused Bashard Seymour was acquitted of the same charges when Senior Justice Isaacs directed the jury to deliver a 9-0 not guilty verdict on Monday.
Yesterday, prosecution and defence counsel made closing submissions.
Smith's attorney, Murrio Ducille, told the jurors that the prosecution's case relied heavily on identification.
However, he said their witnesses gave various answers as to the hairstyle of his client during the shooting and during the identification parade.
He said the evidence of a Tribune photographer, who photographed Smith in November 2009 when he was arraigned in connection with the case, revealed that his client did not have braids, twines, corn rows and plaits as prosecution witness testified.
Prosecutor Jillian Wiliams maintained that Smith, as the charges claim, was the man behind the shooting of the two Atlantis security guards.
She referred the jury to the video footage, colour and black and white, shown in court that purports to be Smith based on the evidence of their key witnesses and a description of the culprit, at Marina Village on the evening in question.
She said that the defence could not disregard the prosecution's evidence about the hairstyle solely based on their single defence witness who could not produce photos of Smith days prior to his arraignment and years before
2009.