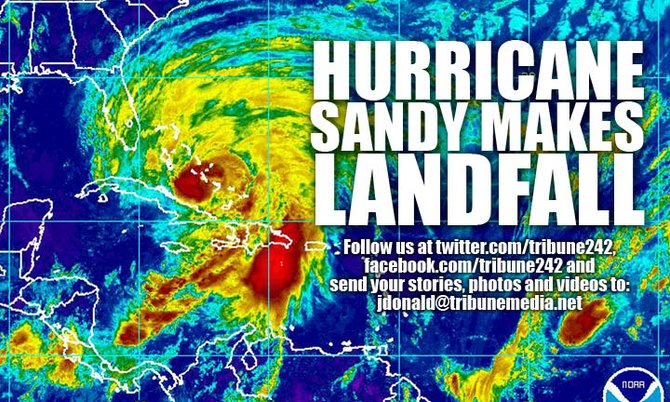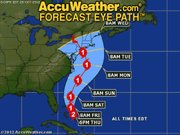 6.30pm: The weather is picking up out there as Hurricane Sandy moves north. Accuweather's latest forecast map gives and indicator of the storm's path.
ACKLINS: There are reports that power is out and most of the roads on that island are flooded. Government administrator Berkeley Williams said the biggest concern was supplies after a boat cancelled its trip there.
RAGGED ISLAND: A school has been flooded but otherwise no major damage.
GREAT INAGUA: There are reports that docks on the western side have been completely destroyed.
NEMA has released the following statement:
The centre of Sandy is near Arthur's Town, Cat Island and its wind field is expanding
A hurricane warning remains in effect for the Northwest and Central Bahamas. This includes Grand Bahama, Bimini, Abaco, The Berry Islands, Andros, Eleuthera, New Providence, Exuma, Cat Island, Rum Cay, San Salvador and Long Island.
Hurricane warning means that hurricane conditions are expected somewhere within the warning area within 36 hours.
Tropical storm warning remains in effect for the Southeast Bahamas, which includes Acklins, Crooked Island, Long Cay, Mayaguana and Ragged Island.
A tropical storm warning means that tropical storm conditions are expected within the warning area within 36 hours.
At 5p.m. the centre of Hurricane Sandy was located near latitude 24.5 degrees north and longitude 75.6 degrees west. This puts the center over Arthur's Town, Cat Island, 60 miles southeast of Eleuthera and 125 miles east-southeast of Nassau.
Hurricane Sandy is moving toward the north near 20 miles per hour. A turn toward the northwest and a decrease in forward speed are expected tonight and Friday, followed by a turn back toward the north and north-northeast Friday night and Saturday. On the forecast track the center of sandy is expected to move just to the east of Eleuthera and Abaco tonight and tomorrow.
Maximum sustained winds remain near 105 miles per hour with higher gusts. Sandy is a category two hurricane on the Saffir-Simpson Hurricane Wind Scale. Some weakening is forecast during the next 48 hours. However, Sandy is expected to remain a hurricane as it moves through The Bahamas.
Hurricane force winds extend outward up to 35 miles from the centre and tropical storm force winds extend outward up to 205 miles from the centre.
Hurricane conditions are now being experienced in Cat Island and will be experienced in South Eleuthera by 7pm. Tropical storm conditions are being experienced in Crooked Island, Acklins, Exuma, Long Island, Rum Cay, San Salvador, New Providence, Eleuthera and parts of Andros and Abaco.