By LAMECH JOHNSON and DANA SMITH
TELECOM services may be disrupted as early as today – as the effects of Hurricane Sandy take hold – because of a union row at BTC.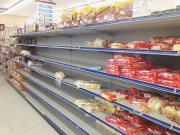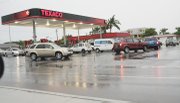 Fear of service disruption follows BTC bosses' dismissal of union members' demands to reinstate a recently elected union vice president back to her senior company position.
Possible action, which could include a strike, comes as The Bahamas braces itself for Hurricane Sandy, with all schools and government offices closed today and tomorrow.
Airports and seaports are also closed and businesses, including banks, have been advised to close.
Tropical storm conditions were expected to begin affecting Ragged Island by 2 o'clock this morning; Long Island and Exuma by 6am then spread over New Providence around 1pm. Hurricane winds were expected to begin affecting South Eleuthera by 7 o'clock tonight and spread to South Abaco by 2am Friday.
Storm surge as much as 5 to 8 feet above normal tide levels is likely in the warning areas.
While there was no direct confirmation or dismissal of reports that the country's telecom services would be disrupted, BCPMU president Talbot Collie, said the union would "do what we have to do."
Last night NEMA warned that hurricane conditions were expected somewhere within the northwest and central Bahamas within 36 hours.
This includes Grand Bahama, Bimini, Abaco, The Berry Islands, Andros, Eleuthera, New Providence, Exuma, Cat Island, Rum Cay, San Salvador and Long Island.
A tropical storm warning was in effect for the southeast Bahamas, including Acklins, Crooked Island, Long Cay, Mayaguana, Inagua and Ragged Island.
At 8pm the centre of Hurricane Sandy was located near latitude 18.7 degrees north and longitude 76.4 degrees west or about 60 miles north-northeast of Kingston, Jamaica or about 255
miles southwest of Ragged Island.
On the forecast track the centre of Sandy will move over central Bahamas today and tonight and move near or over the
northwestern Bahamas on Friday.