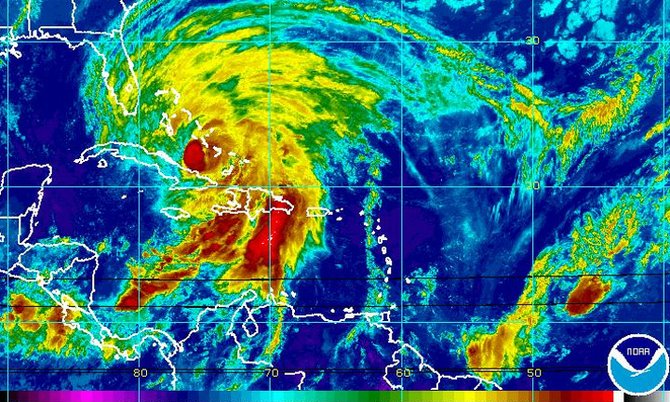 Hurricane Sandy is moving between the northeast coast of Cuba and the Central Bahamas.
A hurricane warning remains in effect for the Northwest and Central Bahamas. This includes Gand Bahama, Bimini, Abaco, The Berry Islands,
Andros, Eleuthera, New Providence, Exuma, Cat Island, Rum Cay, San Salvador, Long Island and Ragged Island of the Southeast Bahamas.
Hurricane warning means that hurricane conditions are expected somewhere within the warning area within 36 hours.
Tropical storm warning also remains in effect for the Southeast Bahamas, which includes Acklins, Crooked Island, Long Cay, Mayaguana and Inagua.
A tropical storm warning means that tropical storm conditions are expected within the watch area in 36 hours.
At 8 am the centre of Hurricane Sandy was located near latitude 21.6 degrees north and longitude 75.5 degrees west or about 36 miles south-southwest of ragged island, 121 miles south-southwest of George Town, Exuma and 236 miles south-southeast of Nassau.
Hurricane Sandy is moving toward the north near 18 miles per hour and this general motion is expected to continue today. A turn toward the north northwest and a decrease in forward speed are expected tonight and Friday. On this forecast track the centre of sandy will move near or over George Town, Exuma at about 4 pm today and between Arthur¹s Town, Cat Island and Bannerman Town, Eleuthera at about 10 pm tonight.
Maximum sustained winds have decreased to near 105 miles per hour with higher gusts.

Sandy is a category two hurricane on the Saffir-Simpson Hurricane Wind Scale. A gradual weakening is forecast over the next 48 hours. However, sandy is expected to remain a hurricane as it moves through The Bahamas.
Hurricane force winds extend outward up to 25 miles from the centre and tropical storm force winds extend outward up to 140 miles from the centre. Hurricane conditions are now being experienced in Ragged Island and tropical storm conditions are being experienced in Exuma, Long Island, Acklins and Crooked Island.
Tropical storm conditions are expected to begin affecting New Providence by 7 p.m. today. While hurricane conditions will begin to affect Exuma by 1 p.m. today and spread into Cat Island by 6 p.m. this afternoon.

Storm surge as much as 5 to 8 feet above normal tide levels is likely in the warning areas.
Residents in the warning areas should have already completed preparation for strong gusty winds and flooding in low-lying areas.
BAHAMAS MEDICAL CENTRE AND PRINCESS MARGARET HOSPITAL
Bahamas Medical Center is closing at 3pm today. Doctors Hospital will remain open for emergency care.
Due to the approach of Category Two Hurricane Sandy, Bahamas Medical Center on Blake Road will close at 3pm Thursday, and is scheduled to re-open at 7am on Saturday, October 27.
All medical emergencies should be directed to Doctors Hospital emergency room at 302-4658 and for ambulance service 302-4747.
Bahamas Medical Center will resume 7am-11pm daily emergency room service on Saturday following the passage of Hurricane Sandy. Again, for emergency medical assistance, please call Doctors Hospital emergency room at 302-4658 or for ambulance service 302-4747.*
ALL Princess Margaret Hospital staff rostered to work DURING the hurricane are asked to report to work at 11:00am on (Thursday October 25th, 2012) promptly for the duration of the storm.
For more information please contact the Hospital Command Center at 502-7890 or 502-7891.