By DENISE MACOCK
Tribune Freeport Reporter
dmaycock@tribunemedia.net
FREEPORT - Hurricane Sandy caused severe flooding on Grand Bahama that resulted in one casualty, and left the airport, several residential subdivisions and settlements, and some roads underwater.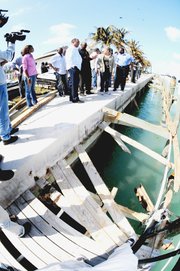 Although Sandy brought little rain, her strong winds produced dangerous storm surge along the island's north shore.
As expected, rising water levels at Hawksbill Creek caused flooding at the Fishing Hole Road and into the nearby Queens Cove community where a man lost his life.
Police received reports on Saturday morning that a male resident of Queen's Cove was discovered unresponsive in his home.
On Friday, officers had visited the area and advised residents to evacuate because of the impending storm surge, but the man refused to leave his home.
Inspector Terecita Pinder said sometime around 9am on Saturday a neighbour returning home discovered the man's lifeless body.

The victim's identity has not been released by police.

Floodwaters had reached dangerous high levels of about five to six feet at Fishing Hole Road, which was inaccessible by vehicle.
The strong winds and high tide conditions combined sent floodwaters about several hundred feet inland across Queen's Highway, and a mile further inland across the West Sunrise Highway forcing NEMA officials to issue an evacuation order for residents in the North Bahamia, Regency Park and Hawksbill Subdivisions.
Tidal surge from the north shore also caused flooding at the airport. Airport officials confirmed that the domestic terminal had sustained some flood damage.
Although there was no flood damage at the international terminal, the airport remained closed on Saturday.
Just west of the airport, homeowners at Queen's Cove were not as fortunate and several persons had to be rescued by boat because their homes were underwater.
During a tour of the areas, Minister for Grand Bahama Dr Michael Darville was very concerned about flooding on Grand Bahama, especially at Fishing Hole Road and Queen's Cove.
"It is clear that the water (in these areas) was in excess of five to six feet. It has put my antennas up and I will go to my colleagues in Cabinet to express the concern I have for Grand Bahama, and move quickly with talks with the GB Port Authority and the Hutchison Group of Companies to ensure that we are better equipped to fight these kinds of storms," he said.
There was also extensive flooding in the East. Residents in Chesapeake North, Churchill Drive, and the Ladylake areas were also forced to evacuate when their homes were flooded.
Jude, a resident of Churchill Drive, said the area was under five to six feet of water.
"The water came inside the house. The water was so high we could not use the car so we got out by boat, and we assisted a few persons along the way," he said.
The Grand Bahama Highway was also flooded, as well as many canal-front properties over the Casaurina Bridge.
Marco City MP Gregory Moss, while touring the area, expressed his concern about the need for proper building regulations in residential areas prone to severe flooding.
"We have seen quite a bit of flooding (in the East)," he said. "It makes me realize that we need to have a dialogue about building regulations.
"There are people investing their livelihood in homes and we keep giving them building permits to build. And a simple precaution indicating where people will have to build on stilts and where the low level is not occupied – that is something we need as a service to be provided by the Port Authority, by the Building Department, and by the government," he said.
Further east, there were also reports of extensive flooding at the Missile Base, Freetown, High Rock, Bevans Town, Pelican Point, and McCleans Town.
There was also severe flooding reported in West End proper and there was some structural damage to buildings in Eight Mile Rock.
The entire island was without power from Friday due to strong winds. The water supply was also shut off because of flooding in well fields located on the north side.
By 6pm on Saturday, floodwaters had subsided at the Fishing Hole Road, which was reopened to motorists travelling in and out of West Grand Bahama.
Basil Rahming, an official at NEMA Command Centre, reported that all shelters were closed on Saturday evening, except for the Maurice Moore Primary School.
He said the shelter, which is designated for residents in East Grand Bahama, remained open because many areas and roads in East End were still extensively flooded.
Although power was restored to some areas on Sunday, some areas were still without electricity and water supply in the Freeport and Lucaya areas up until 4pm.