By DENISE MAYCOCK
Tribune Freeport 
Reporter
dmaycock@tribunemedia.net
FREEPORT – Grand Bahama International Airport has reopened for both international and domestic flights.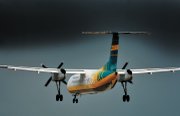 The airport resumed operations on Monday however operational hours are now from 6am to 6pm, according to an airport spokesperson.

By 9am, four flights had departed the airport for New Providence, including two flights by Bahamasair and one by Western Air and Sky Bahamas.
Grand Bahama Airport Company shut down operations on Friday due to Hurricane Sandy. The airport was opened briefly on Sunday for emergency flights only.
Prime Minister Perry Christie, who travelled to Grand Bahama on Sunday, was unable to land at the airport in Freeport. He instead landed at West End airport.

Because of the water damage suffered at the airport's Domestic Terminal, flight administration is now taking place in the Western Air terminal.
"A thorough assessment was done immediately after the passing of Hurricane Sandy. As a result, repairs to the Domestic Terminal are underway and are expected to be completed by Friday of this week," according to a statement issued by the company.

The International Terminal is opened for normal operations.
Bahamasair's Ft Lauderdale flight departed on Monday morning and subsequent flights were all on schedule, reported airport officials.

Freeport Cruise Port has also reopened, with two cruise ships calling at the port.
Grand Lucayan Hotel is also open and suffered no major damage during the hurricane.

In Grand Bahama, utility services including power, water, telephone, and cable have been restored to most areas.
Grand Bahama Power Company reported that electricity had been restored to 90 per cent of its customers.
"Our primary focus continues to be on our restoration efforts. We have crews assigned addressing isolated outages and power related issues," the company said.
Residents in the Lincoln Green 2 and 5, Queen's Cove, parts of Derby, Windermere, and Pine Bay areas were still without power last night due to flooding in those areas.
Grand Bahama Port Authority Technical Department's Building and Inspection unit has instructed GB Power not to energise those areas until they have completed their inspections.
The power company stated that residents in East Grand Bahama also experienced extensive flood damage, which has hindered their restoration efforts.
Additionally, significant pole damage to their main transmission line on Grand Bahama Highway has 
also hampered power restoration.
Residents in areas that were hardest hit by flooding, including Queens Cove, Chesapeake North, Churchill Drive, areas over the Bridge, and settlements in East End are trying to salvage what little they can.
Many of the affected areas were five to six feet underwater.
One resident of Queens Cove said his family lost everything.
"We did not have time to even secure important documents because the power was turned off and we could not see (in the dark)," the man said.
While on Grand Bahama, Prime Minister Perry Christie said flooding was a major issue in Queen's Cove and other low-lying areas throughout the country.
"We have to persuade people to move on, and we may have to put some kind of a system in place so they can move on," he said.
"We have to find the best way to assist people.
"We have allowed them to import things duty free and in many instances where people cannot afford to, we give them social assistance in terms of food, clothes etc," he said.
"We live in an island nation where the ocean continues to work and reclaim the land.
"We have to do our very best to protect citizens and we expect our citizens to assist in making themselves safe.
"We have to find a way to help people in terms of how they prepare for hurricanes," Mr Christie said.