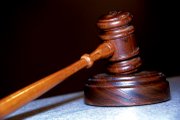 A BRAZILIAN couple has been charged in Miami with attempting to smuggle undocumented immigrants aboard boats from The Bahamas.
Fabio Rodrigues and Juliana Rosa Tome Froes appeared before magistrate Judge Chris McAliley on October 15, and pleaded not guilty to the charges, according to The Miami Herald newspaper.
Federal investigators from US Immigration and Customs Enforcement (ICE) believe Rodrigues and Froes are part of a smuggling network bringing undocumented Brazilians to South Florida using a complex system.
The ICE allegations claim that immigrants are flown from Brazil to France, followed by England and then The Bahamas where migrants then board boats heading to South Florida.
Court records show that the Brazilian smuggling networking was discovered because of a routine stop of a suspicious boat near Pompano Beach two years ago.
The couple and their attorneys were not available for comment.
In July 2010, a Florida Fish and Wildlife Conservation Commission (FFWC) vessel encountered the boat carrying four people.
Wellington Dos Santos Silva, who presented a Brazilian identification card, as well as the others on board, were questioned by US Border Patrol agents.
Dos Santos admitted he attempted to enter the United States illegally from The Bahamas.
Dos Santos then told ICE investigators that he paid $16,050 to a travel agency to be smuggled to the United States.
The announcement led investigators to explore what the ICE affidavit filed in Miami federal court calls the possibility of an 'alien smuggling organization.'
The affidavit also explains that Dos Santos stated he was instructed to travel from Brazil to Paris, then London and finally The Bahamas where he stayed for one month before taking a boat ride to the US.
Dos Santos reportedly told an ICE informant that his contact at the travel agency was Froes, a woman supposedly involved in smuggling other Brazilians to the United States.
Other Brazilians, like Dos Santos, revealed that they too paid the same agency similar fees to be smuggled to South Florida.
"Juliana gave specific instructions to Dos Santos to aid in his smuggling, such as directing him to dress and act like a tourist from Brazil, to discard his Brazilian passport that had been issued from a US-based Brazilian consulate and obtain one from Brazil, and she explained that his itinerary through Europe would support his tourist cover story," said the ICE affidavit.
"Dos Santos stated that Juliana arranged his air travel from Brazil to Paris, then London and The Bahamas. At each stage of the trip, Dos Santos would speak to Juliana about his status and receive instructions."