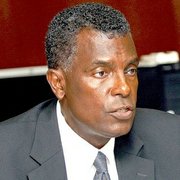 FOREIGN Affairs Minister Fred Mitchell will meet with the President of the Dominican Republic today as he and his delegation, including other Cabinet Ministers, continue their bilateral talks on Dominican fishermen's illegal poaching in Bahamian waters.
Yesterday Mr Mitchell said that he, including the Minister of National Security Dr Bernard Nottage, Minister of Agriculture and Fisheries V Alfred Gray, and Minister of Financial Services Ryan Pinder, held talks with officials from the Dominican Republic's Ministry of Fisheries, Foreign Affairs, and the country's Navy.
These talks included discussions on illegal fishing by Dominican fishermen, illegal migration and trade relations, particularly in the area of agricultural imports and medical products.
Mr Pinder started the day with an early-morning meeting with Secretary of State Executive Director in the Export and Investment Centre of the Dominican Republic Mr Jean Alain Rodriguez, at the Investment and Trade Council. They discussed areas of commerce such as exchanges between the two nations, closer diplomatic ties and trade of goods.
All three Ministers joined Mr Gray for a meeting with a representative at the Ministry of Agriculture right after Minister Pinder's meeting. That meeting led to plans for the two countries to have future interactions to make definite written agreements on agricultural and fishery issues in the near future. It was also the first time a diplomatic meeting was held with the Ministry of Agriculture to attempt to address poaching and fishery concerns.
By noon, Mr Mitchell led the delegation to an official welcome at the Ministry of Foreign Affairs, where Minister Carlos Morales Troncosco warmly greeted the groups and spoke fondly of his visits to the Bahamas and his interactions with Minister Mitchell.