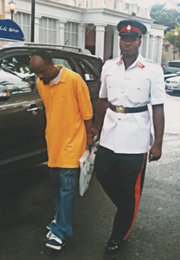 By LAMECH JOHNSON
Tribune Staff Reporter
ljohnson@tribunemedia.net
A MAN pulled up his shirt in Supreme Court to show the jury the scars he received when he was chopped by a cutlass-wielding man he claimed wanted to take his life because of something he had witnessed.
John Lubin traced his 
fingers over a scar on his right shoulder that he claimed was inflicted on him by 36-year-old Nicole Octelus nearly five years ago when the attacker tried to chop him in his head with a machete.
Octelus of Godet Avenue Carmichael Road faces an attempted murder charge. It is claimed he tried to murder Lubin on September 29, 2007. Octellus denies the charge.
Yesterday, prosecutor Anthony Delaney asked Lubin to tell the court what took place around 10pm on the day in question.
Lubin said he was at a residence owned by an old man known as "Daddy Joe" on Cowpen Road when the incident occurred.
"Nicole Octelus then came to the house, knocked on the door, BOOM! BOOM! BOOM! and saying POLICE! POLICE!" the court was told.
Lubin said that "Daddy Joe" opened the door and Octelus came inside wielding a cutlass. Octelus aimed his cutlass for Lubin's head, which forced him to raise his arm to protect his head.
Lubin claimed Octelus was trying to kill him because he was a witness to a recent incident.
Octelus' lawyer, Ramona Farquharson-Seymour, objected to this statement. She said Lubin was referring to matters outside of the case.
Justice Vera Watkins agreed and warned the Lubin to listen to the questions of prosecutor Delaney and answer accordingly.
Once this was cleared up, Mr Delaney resumed his questioning of the complainant.
"How do you know Nicole Octelus?" the prosecutor asked.
"We actually lived in the same neighbourhood," Lubin said, adding that this was for nearly 10 years when he saw the accused sometimes everyday for "10-20 minutes, sometimes longer." It was around Godet Avenue where they lived.
"You ever did anything with him?" the prosecutor inquired further.
"We would smoke together, drink together," Lubin answered.
"How would you describe your relationship with Mr Octelus around that time?" Mr Delaney asked.
"Say what? Relationship? No relationship," Lubin replied.
Prosecutor Delaney rephrased the question and Lubin said that before the incident, "everything was all right."
"How do you know it was Nicole Octelus that attacked you?" the prosecutor asked.
"Cause when he chap me, he tell me he gan kill me," Lubin answered.
"How close was he to you when he said this?" Mr Delaney asked him.
"He was very close," Lubin answered.
The prosecutor's next question to Lubin was: "How long did you see him that night?"
"When he chap me?" Lubin asked, then answering, "I see him long enough for him to chap me, about three to five minutes."
Lubin said three to four men accompanied Octelus that night, and during the attack they stayed at the front door guarding it so he could not get out.
He told the court that he was in the back room of the house, and the light was in the front section of the home.
"Do you recall what he [Octelus] was wearing?" Mr Delaney asked.
"No. I don't remember what clothes he was wearing," Lubin answered.
The prosecutor asked him how he got out of the house. He said the attack left him barely able to move, but he was able to get to the back door, open it and run across the road.
"Do you see Mr Octellus in the court today?" Mr Delaney asked.
"Yes. He's behind you in the box in the orange shirt," Lubin said.
The prosecutor asked the judge to allow Lubin to show the court where he was chopped on his body, if there was no objection from the defending attorney.
Mrs Seymour had none and Justice Watkins allowed it.
Lubin lifted his shirt and pointed to scars on his arm and right shoulder, the latter he traced over with his finger to illustrate the length of the old wound.
Lubin continued his testimony, saying that he saw the accused again after leaving hospital when he was asked by police to identify the man who had attacked him.
"He (Octelus) was in front of me and the officer asked me if it was him who attacked me and I say yes," Lubin replied.
"Did Octelus say anything," Mr Delaney asked.
"He deny it. He say no," the complainant answered.
In cross-examination, Mrs Seymour suggested to the complainant that the house he was in on Cowpen Road was not well lit because "Daddy Joe's house doesn't have electricity."
"The only lighting his house had is from candles and lamp. Do you agree?" she added.
"He had light," Lubin answered.
When Mrs Seymour told Lubin that he had said something totally different in another court proceeding, Mr Delaney objected and a legal issue arose over Mrs Seymour's line of questioning.
Justice Watkins dismissed the jury for the remainder of the afternoon. She told Lubin to return to court in the morning to continue cross-examination.
Counsel and the judge held private discussions once the jury and the complainant had left the court. The trial resumes today at 10am.