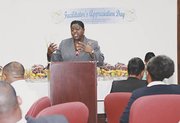 IF left unchecked, the lack of the "proper socialisation" among Bahamian children will compromise their future, Minister of Social Services Melanie Griffin said.
"It is a national tragedy that so many Bahamian children do not seem to know the basics of good manners, yet they are fully versed in some of the most foul language imaginable," Mrs Griffin said.
"This lack of socialisation takes many forms, most of which are detrimental to the long-term success of the child, (as) a child who lacks manners is ignorant of the basic social graces, difficult to teach, and therefore hard to employ later in life."
Addressing an Appreciation Day Reception for 45 facilitators of the National Parenting Programme, Mrs Griffin thanked them for the work they have done in making the programme "a huge success" since its establishment in 1994.
More than 1,000 parents have participated in the Parenting Programme over the past year alone.
Social Services officials say the National Parenting Programme has had a positive impact and helped to reverse the trends associated with the lack of proper socialisation by addressing a number of key areas.
Facilitators of the programme are experts from a cross-section of professions in the public and private sectors including the clergy, education, social work, healthcare, counselling, law enforcement and the banking industry.
"The Programme cannot be successful without the facilitators," Mrs Griffin said. "We are thankful that they have made the commitment to be in partnership with the Ministry of Social Services' National Parenting Programme and to provide information from their respective areas of expertise."
Mrs Griffin urged the facilitators to continue to teach the participants – many of whom are young, single parents – the value of "basic social graces".
"Please ensure that they understand the importance of teaching their children good manners. As a child growing up, I was often told that good manners will take you far. Sadly, I've not heard that quote often from the newest generation of Bahamians. I firmly believe that it is time for that belief to make a return," Mrs Griffin added.
She said the National Parenting Programme is one of a number of tools the government of the Bahamas, through the Ministry of Social Services and its agencies, will utilise to help strengthen the family structure.
The absence of the traditional family structure, she said, and the erosion of the extended family, have contributed to the anti-social behaviour seen every day.
Mrs Griffin said the increasing number of single-parent homes and children being born to single mothers are among the major challenges impacting the family.
"The strengthening of the family structure is a part of a comprehensive national plan to battle the scourge of crime and criminality — particularly violent crimes such as murder within the Commonwealth of the Bahamas," Mrs Griffin said.
"Domestic violence, school violence, divorce, alcoholism, unemployment, murders, financial challenges are all indications of what is happening within our families and as we all know, as the family goes, so goes the nation."