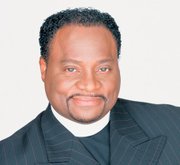 By KHRISNA VIRGIL
Tribune Staff Reporter
kvirgil@tribunemedia.net
A LOCAL clergyman yesterday questioned the integrity of any religious body supporting the ministry of mega-church senior pastor Eddie Long who is hosting the Spirit and Truth Conference at the Atlantis Resort today.
Long, senior pastor of the 25,000-member New Birth Missionary Baptist Church in Lithonia, Georgia gained attention from several best selling books and an Emmy award winning broadcast.
Those accomplishments, however, were overshadowed when four young men in 2010 alleged that Long coerced them into sexual relationships with him. The claims later snowballed into Long temporarily stepping down from his duties at the church and a near divorce from his long-time wife Vanessa, according to several US based media outlets.
Speaking with The Tribune yesterday Cedric Moss, pastor of the Kingdom Life Church on Chesapeake Road, said by all indications Long should not be considered a pastor, considering his "checkered past."
"Two things," Mr Moss said, "should be considered. One, if he is coming here of his own accord and renting a hall. In that event, he can speak to whomever wants to listen. Now if Long is coming here and is being supported by a church, pastor or religion group that should be cause for concern.
"I don't even believe Long is a pastor. He who is above reproach is the first qualification. That doesn't mean perfect, but it means that persons should be credible."
Mr Moss said because the matter has not been resolved or brought vindication to Long, he should not be considered a pastor.
The Conference, which ends tomorrow, will see a number of speakers, including Long and Bahamian Bishop Neil C Ellis, senior pastor, Mount Tabor Full Gospel Baptist Church. Both pastors, according to an endorsement which was written by Long of Ellis, are long time friends.
"Integrity," said the endorsement, "is often a characteristic that, unfortunately is hard to find in the first word that comes to mind when I think about my friend, brother, confidant and accountability partner, Bishop Neil C. Ellis, he has proven to be a man of great integrity, strength and courage. I am often amazed at his ability to hear the voice of God and accurately communicate it with such passion."
Several attempts to reach Bishop Ellis were made, but none of the calls was returned.