By KHRISNA VIRGIL
Tribune Staff Reporter
kvirgil@tribunemedia.net
SIMEON Hall yesterday said religious bodies in the Bahamas will only be successful in their anti-gaming campaign if they can persuade their own followers to stop gambling.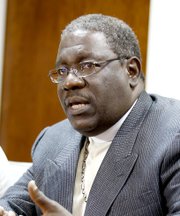 The senior pastor of New Covenant Baptist Church said all the 130,000 persons with illegal numbers accounts, as well as all web shop bosses, attend a church somewhere in the country.
"The campaign against gambling is a noble one," Bishop Hall said, "but I must first seek to change the hearts of church members who play the illegal activity or it will prove yet another ill-conceived idea by the Christian Council.
"There are 4,000 churches throughout the Bahamas, so whether church leaders know it or not, there are at least 30 gamblers in every church," Bishop Hall said.
He said the proposed referendum is irrelevant, because there are thousands who will continue to gamble regardless of the outcome.
"Gamblers who do so and cause the children's school fees, the house mortgages and family life to be adversely affected, need help. There is no other institution better suited than the church to remedy this," Bishop Hall said.
He added that the government cannot change hearts, and that church leaders ought not to expect the government to do what "we ourselves are called to do".
While the government has yet to announce a date for a national lottery referendum, a group of clergymen met last week to begin their campaign to convince Bahamians to "say no" to gambling.
The group has already produced a commercial which is circulating on YouTube.
The Christian Council has not announced when the ads will be aired on TV or how much money has been pumped into the initiative, however, insiders have said the council is expected to heighten their campaign in the coming weeks.