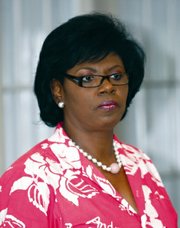 By NEIL HARTNELL
Tribune Business Editor
nhartnell@tribunemedia.net
A senior Nassau Airport Development Company (NAD) executive yesterday said the airport operator expects rival carriers will "fill the breach" and pick up the 10 per cent market share being relinquished by Spirit Airlines on its Nassau-Fort Lauderdale route.
Vernice Walkine, NAD's senior vice-president of marketing and communications, said that while the Lynden Pindling International Airport (LPIA) operator had received no official word from Spirit, the flight schedules indicated it would cease its Nassau-Fort Lauderdale service next month, resuming it in April 2013.
She expressed confidence, though, that existing carriers such as Jet Blue and Bahamasair would "meet the demand" created by Spirit's exit from the key south Florida route for six-seven months.
"That is what we have heard," Ms Walkine told Tribune Business, when asked whether Spirit was set to cease - at least temporarily - its Nassau-Fort Lauderdale route.
While "Spirit has not actually informed us of that officially", with no notice given that it will not be needing its LPIA offices and check-in space, NAD had checked advance flight schedules and noted the airline had "essentially suspended service as of October" on that particular route.
"I gather they will be returning in April. That's at least how it appears from the flight schedules," Ms Walkine told Tribune Business.
While NAD has yet to receive official notification from Spirit, it is believed that the Ministry of Tourism might. However, Tribune Business was unable to confirm this as David Johnson, the director-general of tourism, was off-island travelling.
While the Ministry of Tourism and NAD do not want to lose any carriers, Spirit's departure is likely to be cushioned by other airlines picking up its market share and route - meaning that the impact on airlift and tourism will be minimal.
Asked about the impact of Spirit's loss, Ms Walkine said: "It's not too significant in the sense that between Jet Blue and Bahamasair, they will the breach.
"It'll be felt for some period of time, but certainly, once the core of the winter period is upon us, we are absolutely satisfied the existing carriers will meet the demand.
"I believe they [Spirit] actually held about 10 per cent of the Nassau-Fort Lauderdale market."
Elsewhere, Ms Walkine told Tribune Business she "can't necessarily disagree with anything" contained in a letter, sent to this newspaper by a disgruntled airline worker, in relation to the delays experienced by passengers in clearing US Customs and Border Protection (CBP) at LPIA this summer.
The letter claimed that the Bahamas' tourism reputation had suffered "major damage" as a result of passengers taking up to two hours to be processed at US pre-clearance, with some missing flights as airline decided to take-off on time to save the thousands of dollars they were burning in fuel.
Ms Walkine declined to comment further on this issue, but said the letter was inaccurate when it came to criticisms of the amount of jet bridges at the new US departures terminal.
The letter alleged that LPIA had gone from six to five US bridges, but Ms Walkine said the airport would have eight once the arrivals terminal was opened on October 16.
"We have three more US gates coming on October 16 when we open stage two," she told Tribune Business. "What we did with Stage one was we completely replaced what we had before - we replaced five bridges with five bridges, and then more bridges will come with stage two. We will have eight US bridges as of October 16."
Work on stage three of LPIA's redevelopment has already begun, Ms Walkine said, adding that NAD, in conjunction with the Ministry of Tourism and Bahamian hotels, was "executing" its strategy to develop additional airlift in time for Baha Mar's 2014 opening.
The partners had already met with their targeted airlines individually, and were set to hold discussions with 13 carriers at the Routes World Forum scheduled for end-September/beginning October.