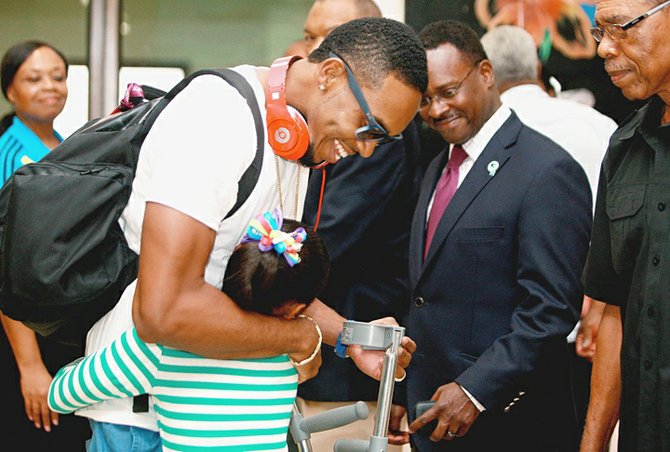 By BRENT STUBBS
Senior Sports Reporter
bstubbs@tribunemedia.net
Precisely one month and a week after having surgery to repair his patellae tendinitis at the Homerton University Hospital in Homerton Row, London, Leevan 'Superman' Sands returned home yesterday walking on crutches to a surprise welcome reception at the Lynden Pindling International Airport.
A slimmed down Sands was greeted by a number of dignitaries, along with his family and friends where he was showered with accolades for his courageous effort at the 2012 Olympic Games in London, England, on August 9 when he suffered the injury to his 'Jumper's Knee' after he disembarked his flight from Auburn, Alabama.
"This a very emotional moment for me. I wanted to come home from after I jumped," said Sands, who only took two jumps at the Olympics before he sustained the injury to his right knee and was unable to complete the final of the men's triple jump.
"Coming home and seeing this, I really didn't expect this. I really appreciate my family and the media for coming out to see me. I didn't think I was that important. But I'm happy to be home, eat some food and put some weight back on."
The importance of the reception was such a huge one that it was attended by Minister of Youth, Sports and Culture Dr Daniel Johnson, Bahamas Olympic Committee president Wellington Miller, Bahamas Association of Athletic Associations president Mike Sands and Dr Ricky Davis, who headed the Bahamas' medical team in London.
Under different circumstances, the Bahamas could have been welcoming Sands home as a repeat medallist. The bronze medallist in the 2008 Olympics in Beijing, China, was sitting in fourth place after his first four jumps, but dropped to fifth after he wasn't able to complete his final two attempts.
Johnson, who was in London for a portion of the games, said he was pleased to welcome Sands home.
After presenting him with a "hot" loaf of bread from the cafeteria at the Princess Margaret Hospital, Johnson told Sands that during his stay here, he needs to visit his office at the Ministry of Sports so that he can take him to see Prime Minister Perry Christie, who has a cheque waiting for him.
During his remarks, Johnson said Sands exemplified the true essence of the theme for this year's Olympics - 'Inspiring the Next Generation' - by his performance, his attitude and his character in London has certainly given hope to countless people who could have easily given up.
"Even more so than the people who won medals and come whatever they would come, when you really look at the Olympics, it is people like you who have set the stage for how far we can go and I congratulate you," Johnson said.
BAAA president Sands, a housing crew of Sands in the Olympic Village in London, said he was glad to "welcome" him home.
"We expected great things to happen for you. Unfortunately our sport is one that has its hazards and injuries," he said. "But watching you in your preparation phase, we knew that you were ready to go. You took one jump and walked out and said that you will be back.
"Unfortunately that was not to be. However, you maintained your composure, you maintained your spirit and you are already looking forward to competing again."
In his welcome address, Miller said the BOC is delighted to see Sands after talking to him constantly over the phone.
"We know how you like to compete and represent this country and we were all disappointed when you suffered the injury," said Miller, who was also there in London at the games. "We are so proud of you and we are so happy that you are home and walking again. I know you will throw those crutches down in a little while."
As the ceremony got started, BAAA first vice president Sherwin Stuart, the godfather of Sands, gave a brief history of the transgression of a two-sport star in basketball and track and field from his days at Temple Christian Academy to Florida Air Academy to Auburn University to winning a medal at every international meet, including the IAAF World Championships to the Olympics.
Stuart said Sands has performed exceptionally well and they are all proud that his father made the decision to push him through track and field under the supervision of coaches Stephen Murray with the Striders Track Club and then Peter Pratt through Jumpers Inc., setting the stage for his rise to prominence as an elite athlete.
Sands Sr notably was absent from the reception as he was home recuperating from a slight illness. But flanked by his mother Elaine Sands, his grandfather Edmond Lewis and the dignitaries, the national triple jump record holder cut a cake that read: 'London 2012 Welcome Home Superman.'
Pastor Paul Scavella, president of the Bahamas Conference of Seventh Day Adventists, delivered a prayer to set the tone for the event.
But it was Sergeant Whitney Bastian, a singer from the Royal Bahamas Police Force Pop Band, accompanied by keyboard player Sergeant Julian Darville, who serenaded Sands and the audience with a few selections.
It was truly an experience that helped to ease the pain that Sands experienced in London.
"The ceremony was quite interesting. We were happy that all of the dignitaries were here to join our family in welcoming him home," Elaine Sands said. "It meant so much to us, especially with the police pop band, led by Superintendent Ronald Campbell, and the other members of the Police Force."
Former police officer Edmond Lewis, the grandfather of Sands, said he's happy to have him back home because they were all concerned about his health when he went down with the injury.
"I thank God that he's back and, knowing him, I know it won't be long before he starts competing again," he said.
And Laroya Moxey, one of his aunts, said they are delighted to see him because they were wishing that they all could have been in London when he suffered the injury.
"We talked to him every day just to make sure that he was okay and whether or not he needed anything," she said. "Just to see that he is okay, we're very proud of him as a family and we want him to know that we love him and we are wishing him a speedy recovery."
Pratt said that while he's elated to see Sands walking again, he had some words of caution for him.
"I hope he doesn't rush it back," he said. "I hope he sits out 2013 and tries his hand again in 2014 and he would be good to go."
Dr Davis said he's not only pleased to see the stage that Sands has progressed, but he said as long as he takes the doctor's advice, he will be in good condition for his comeback.
"It was the type of injury that if it wasn't taken care of properly, he would not be able to compete again," Davis said. "But he had the best surgeons in the UK and they performed excellent surgery on him. He's been in the US and he's had the proper rehab on a daily basis.
"Right now, he's about four weeks above the stage that he should be and as the team doctor, I will evaluate him while he is here."