By LAMECH JOHNSON
Tribune Staff Reporter
ljohnson@tribunemedia.net
A MAN accused of trying to murder another man in a late night cutlass attack regained his freedom when he was acquitted of attempted murder by a Supreme Court jury.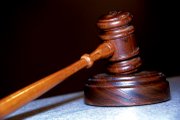 Though it took a nine-member jury an additional 90 minutes to unanimously come to a verdict, 36-year-old Nicole Octelus left court a free man after the jurors, at 6:30pm, unanimously returned the not guilty verdict of the attack on John Lubin.
Monday's verdict came four hours after the jurors were excused at 2:30pm by Justice Vera Watkins to deliberate on a verdict. At 5pm, they returned, but did not have a verdict and requested additional time.
Nicole Octelus, of Godet Avenue, Carmichael Road, faced an attempted murder charge. It was claimed that he tried to murder John Lubin on September 29, 2007. Octelus denied the charge.
During the trial, Lubin pulled up his shirt in Supreme Court to show the jury the scars he received when he was chopped by a cutlass-wielding man he claimed wanted to take his life because of something he had witnessed.
Lubin said he was at a residence owned by an old man known as "Daddy Joe" on Cowpen Road when the incident occurred.
"Nicole Octelus then came to the house, knocked on the door, BOOM! BOOM! BOOM! saying POLICE! POLICE!" the court was told.
Lubin said that "Daddy Joe" opened the door. Octelus entered wielding a cutlass. Octelus aimed his cutlass for Lubin's head, causing him to raise his arm to protect his head.
Octelus, in face of the in-court allegations, opted to remain silent in his own defence.
Instead, he called a female witness who testified that Octelus was not only at a bar that night where she worked, but also walked her home after 10pm, the time the incident was reported to have occurred.
On Monday, at 11:30am, Justice Watkins summarized the evidence given throughout the trial from five witnesses including Lubin and the female witness, Deborah Wells.
The evidence summation concluded at 2:30pm and the jurors were excused to deliberate on a verdict.
After requesting more time, they arrived at a 9-0 not guilty verdict.