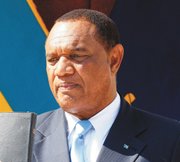 PRIME Minister Perry Christie said the government must do more to fight the scourge of domestic abuse.
Speaking at the opening ceremony of the Bahamas Crisis Centre's "peace conference", Mr Christie said this role must go beyond occasional support and sporadic funding grants.
He said: "The state, through co-operation with organisations like the Crisis Centre, must do more, be more meaningfully involved and make sure the support is sustained and relevant."
The three-day conference is the third regional event of its kind.
Held under the theme: "Peace at home, peace in our community," the talks and workshops will champion the cause of peace.
"As a community, we all have to work collectively and collaborative to create this peace paradise. This is what our advocacy is about, we want to speak the peace," said conference co-ordinator Donna Nicolls.
Highlights of the conference include a special Wednesday evening session for men.
International consultant Nathaniel Cole, from the Men Can Stop Rape Organisation is set to speak, along with Thomas Holmes, president of the regional men's advocacy group CariMAN.
Bahamian Dr Michael Neville, will delivery a plenary address on Thursday morning, addressing the topic "Teaching violence, expecting peace".
Author Johnetta McSwain-Clay, set to deliver Thursday's keynote, will speak about her personal struggles growing up around childhood sexual, physical and emotional abuse, and learning to overcome.
"She is what we want people to see; to show that you yourself can make a difference in your life. She is a good example of what we would like to see women achieve," said Ms Nicolls.
The Bahamas Crisis Centre has been serving the community for more than 30 years. It was the second of its kind to open in the Caribbean.