By CELESTE NIXON
Tribune Staff Reporter
cnixon@tribunemedia.net
AS THE country continues to mourn the passing of former Attorney General Paul Adderley, union heads praised his contribution to the Bahamas.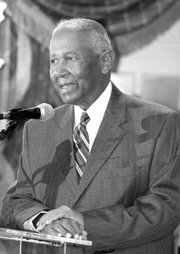 Describing Mr Adderley as a "distinguished" Bahamian, Nicole Martin, president of the Bahamas Hotel Catering and Allied Workers Union (BHCAWU), said his impact on the development of the nation was crucial.
In a press statement released yesterday she said: "He was a unique Bahamian with a beautiful mind for all things Bahamian and brilliance to be admired by most.
"Well considered, studied and determined to achieve excellence at every turn, Mr Adderley served as the first Attorney General in an independent Bahamas and did so with remarkable distinction, mastering all challenges that arose for a new nation charting a new course.
"We, the officers and members of the BHCAWU, embrace the service and accomplishment of the Hon Paul L Adderley, a monumental testimony and a worthy lesson of what love, toil and labour for country is all about."
Mr Adderley died on Wednesday after a lengthy illness. He was 84 years old.
Mrs Martin said the five term parliamentarian exemplified "core union values".
"He was indeed a nationalist of high order who laboured for more than 40 years to bring about empowerment of a people and respect for country," she said. "Especially in those turbulent years of the 80s when he stood almost single-handedly and defended the Bahamas from vicious attacks and scandalous propaganda on the subject of corruption and drug trafficking."
Extending her union's condolences to his family, Mrs Martin said: "No finer example of a true patriotic individual is to be found in the making of the modern Bahamas – a man of excellence who taught us all how to aim high and achieve much by his life's work".
Following Mr Adderley's passing, Prime Minister Perry Christie said: "This is a grave loss for our country, for myself personally, and for the many thousands of Bahamians whose lives were touched by this truly remarkable human being and nationalist over the course of his more than 40 years of distinguished service to the Bahamian people. 
"Mr Adderley was a man of extraordinary intellectual brilliance. His accomplishments were legion. Indeed it is quite impossible to overstate the importance of his many and varied contributions to the development of our nation.
"As the longest serving Attorney-General of the 20th century – a period spanning some 17 years – Mr Adderley engineered the transition of our colonial legal system into a new era of constitutional sovereignty while overseeing the modernisation of our laws in so many vital areas of national life. In so doing, he also expanded the judiciary and helped deepen the Rule of Law as the bedrock of our civilisation."
A state funeral will be held for Mr Adderley, details of which will be announced shortly by the Cabinet Office.