By LAMECH JOHNSON
Tribune Staff Reporter
ljohnson@tribunemedia.net
A WOMAN accused of setting a car on fire, then trying to put her four-year-old son inside, was given a new appointment date to undergo psychiatric evaluation before her trial.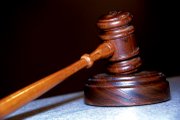 Rosita McKenzie, 26, was ordered yesterday by Justice Indra Charles to see a psychologist on Thursday, September 27.
McKenzie was accused of the crime in 2010. Her son is now six years old.
At the last status hearing before Justice Charles on August 21, attorney Terrel Butler had indicated to the court that she had not had a chance to speak with her client, who was not in prison when she went to visit at the beginning of the month.
Ms Butler then told the judge: "I was hoping to speak to my client to see if there is any medical examination she needs where she could perhaps seek a psychiatrist."
She then told Justice Charles of the particulars of the alleged offence. It is claimed that the 26-year-old mother set a car on fire in front of her home, then tried to put her young son inside.
The judge agreed that an evaluation would be the best way to proceed.
She said the test would help determine if the accused was mentally fit to instruct the attorney on her defence. The matter was stood down to yesterday, September 24, for the doctor's report on whether or not the accused mother was fit to instruct an attorney.
However, in yesterday proceeding, it was revealed that McKenzie had missed the appointment with the physician.
Justice Charles ordered the next appointment to be on Thursday, September 27. A new trial date has not been set as it will depend of the findings of the doctor's report.