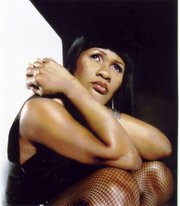 By ALESHA CADET
Tribune Features Reporter
acadet@tribunemedia.net
International dancehall artists Mr Vegas is back by popular demand to perform with the queen of the dancehall Lady Saw for the year's Guinness Arthur's Day Concert at Club Luna.
On Saturday, Mr Vegas will bring all of hits back, including fan favourites: Bruk it Down, Heads High, I'm Bless, Hot Wuk, Talk is Cheap and many more. Lady saw will no doubt perform popular songs such as: I Got ya Man, Chat to mi Back, Big Ninja Bike, Man a the Least and Sycamore Tree.
Phelan P Ferguson, brand manager at Guinness told In Ya Ear:
"At first we were considering only making it Lady Saw, but it just sort of dropped in our lap that we were able to get Mr Vegas. He was here not so long ago, which gave me a bit of pause but really and truly, he has songs and a large category of music that are still very popular."
With Saturday being Mr Vegas' birthday, Mr Ferguson said he is coming to put on a great show and people can only expect the best from both acts.
"As usual, Guinness does not do things half way, so if you like Dancehall music, come out to Luna and you will have the time of your life and a show to remember. I am pretty sure that there will be some local acts as well but the names have not been confirmed as yet, but we anticipate that there will be a few," said Mr Ferguson.
Mr Ferguson also encouraged all persons to celebrate the actual Guinness Arthur's Day on Thursday.
"We have a bar crawl set up with the two dollars Guinness prices throughout the network, and this year the crawl will end at Gladstone Road. As far as the bar crawl is concerned, where we end up on Gladstone Road is going to become our hub. Every Friday we have a block party there so people already know us for that more than anything else," said Mr Ferguson.
"On Arthur Guinness Day last year we did the same thing we are doing this year. Throughout the islands at all of the Burns House locations, Butler and Sands stores and certain select accounts that have worked with us in support of Guinness throughout the year, we will be offering the beverage for two dollars. We had our retrofitted dodge ram truck with some massive speakers, and we used that every week to basically do block parties. The theme for the block parties is greatness in the streets," said Mr Ferguson.
He said last year, instead of bringing international acts for the concert, they decided to have a local concert that featured musicians such as Jahem, M Deez and Willis and the Illest, where a lot of people supported.
Last year, the main Guinness Arthur's Day Concert was held in Jamaica and simulcast throughout the region on satellite television.
The concert will happen again this year, but it will be broadcast on Thursday, as not to conflict with other celebrations. The event features acts such as; Sizzla, Destra, Kerwin Dubois, Popcaan and Mavado and will be screened live at Gladston Road Liquors.
"For the last three weeks, we have been doing a promotion which is called, tickets to greatness. And there were folks who were able to win 253 bottles of Guinness and nine folks won that. There were two people who were successful at winning two all expense paid trips for two to go to see this concert in Jamaica on Thursday. Those people are going to see it live in Jamaica and the Bahamian public will be able to see it live at Gladstone Road," said Mr Ferguson.