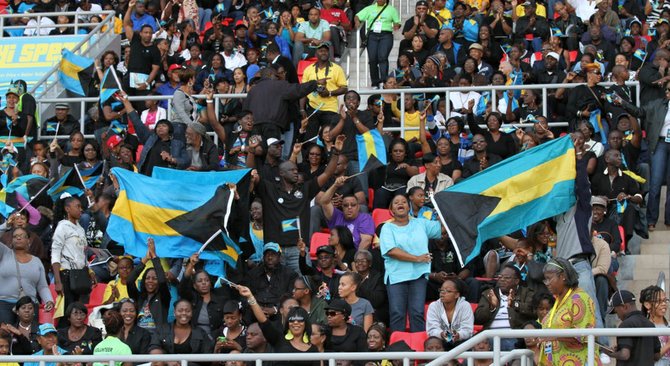 • Follow the Tribune on Twitter @Tribune242 or the Twitter window at the lower right of this website for continuing real time Carifta updates.
On day two of the Carifta Track and Field Championships, the Bahamas was able to add 10 medals to their total and bring their count to 21.
The Bahamas added three gold, three silver and four bronze medals yesterday and sit second on the medal table with five gold, eight silver and eight bronze.
Laquan Nairn became the first member of Team Bahamas to win multiple individual medals at this year's games when he took gold in the U 20 Boys Long Jump with a leap of 7.40m.
Desmond Major and Charles Sealy competed the grueling two day Heptathalon and added a pair of medals.
After an inspiring run in the 1500m, Major came from behind to take gold with 4707 points and Sealy won bronze with 4611 points.
On the women's side, Miquel Roach took silver in the Pentahalon with 3318 points.
Ken Mullings won silver in the U17 Boys High Jump with a personal best of 2.03m and Andira Ferguson won silver in the U17 Girls Long Jump with a leap of 5.75m.
Relative newcomer to the hurdles, Mikhail Bethel took bronze in the U17 Boys 400mH in 58.06s.
Both the U17 Boys (41.89s) and Girls (46.58s) teams took bronze in the 4x100m relay.
Just minutes after the gold medal triumph in the U20 Girls 4x100m (44.77s), an exuberant Bahamian crowd experienced disappointment in the U20 Boys 4x100m when the team fumbled the second exchange and were disqualified.
Jamaica leads the medal table with 50 medals including 20 gold, 19 silver and 11 bronze.